Description
The LoRa® Power Meter with CTs, the ITE 11LI, is one more member of the family of IoT endpoints from Khomp that operates according to the LoRaWAN™ protocol. Its function is to measure the consumption and the quality of energy using current transfor0mers (CTs).
Installed in the electrical panel, together with the fuses, the ITE 11LI has CT outputs (Current Transformers) for monitoring multiple energy points. In practice, the CTs provide a direct, non-intrusive connection between the electrical panel and equipment spread throughout the environment, such as industrial refrigerators or air conditioners.
It is possible to configure up to a total of 3 CTs per meter. In other words, the meter is capable of monitoring the consumption of energy of up to 3 single-phase pieces of equipment at the same time or 1 three-phase device
The ITE 11LI also includes an on-board temperature sensor to indicate the temperature of the power panel in which it is installed, and an active binary input to monitor the opening of the electrical panel door, for example.
---
Another notable feature of the ITE 11LI is its integration with Bluetooth TM, which allows for firmware updates just by pairing the device with the Khonect application developed by Khomp.
---
What can be measured:
The ITE 11LI is able to read up to 3 phases at a time. Measuring the following data for each phase:
RMS Voltage
RMS Current
Hz Frequency
Power factor
Active energy (accumulated)
Reactive energy (accumulated)
Features
With integrated Bluetooth to allow for updating of firmware
Network protocols: LoRaWAN™
Installation in the DIN panel rack or in the rack that comes with the product
Operating problem warnings (error in the sequence between the voltage and current phases)
Able to determine single phase loads
Real time reading of consumption in kWh per phase, with internal memory for saving data
Installation and integration through MQTT and ITG 200 Dashboard
Integrated temperature sensor to measure the temperature at the location of the installation
6 Models of CTs for your application (additional Items)
On Board Temperature Sensor
Active Sensor Tamper
CT models available
Accessories (Optional)

Description
25A CT
PowCT-T10-25-333
25 A CT, 333 mV output, 5 meter cable
40A CT
PowCT-T16-40-333
40 A CT, 333 mV output, 2 meter cable
100A CT
PowCT-T16-100-333
100 A CT, 333 mV output, 2 meter cable
150A CT
PowCT-T16-150-333
150 A CT, 333 mV output, 2 meter cable
250A CT
PowCT-T24-250-333
250 A CT, 333 mV output, 2 meter cable
630A CT
PowCT-T36-630-333
630 A CT, 333 mV output, 2 meter cable
1500A CT
PowCT-T50-1500-333
1500 A CT, 333 mV output, 2 meter cable
Resources
Application Model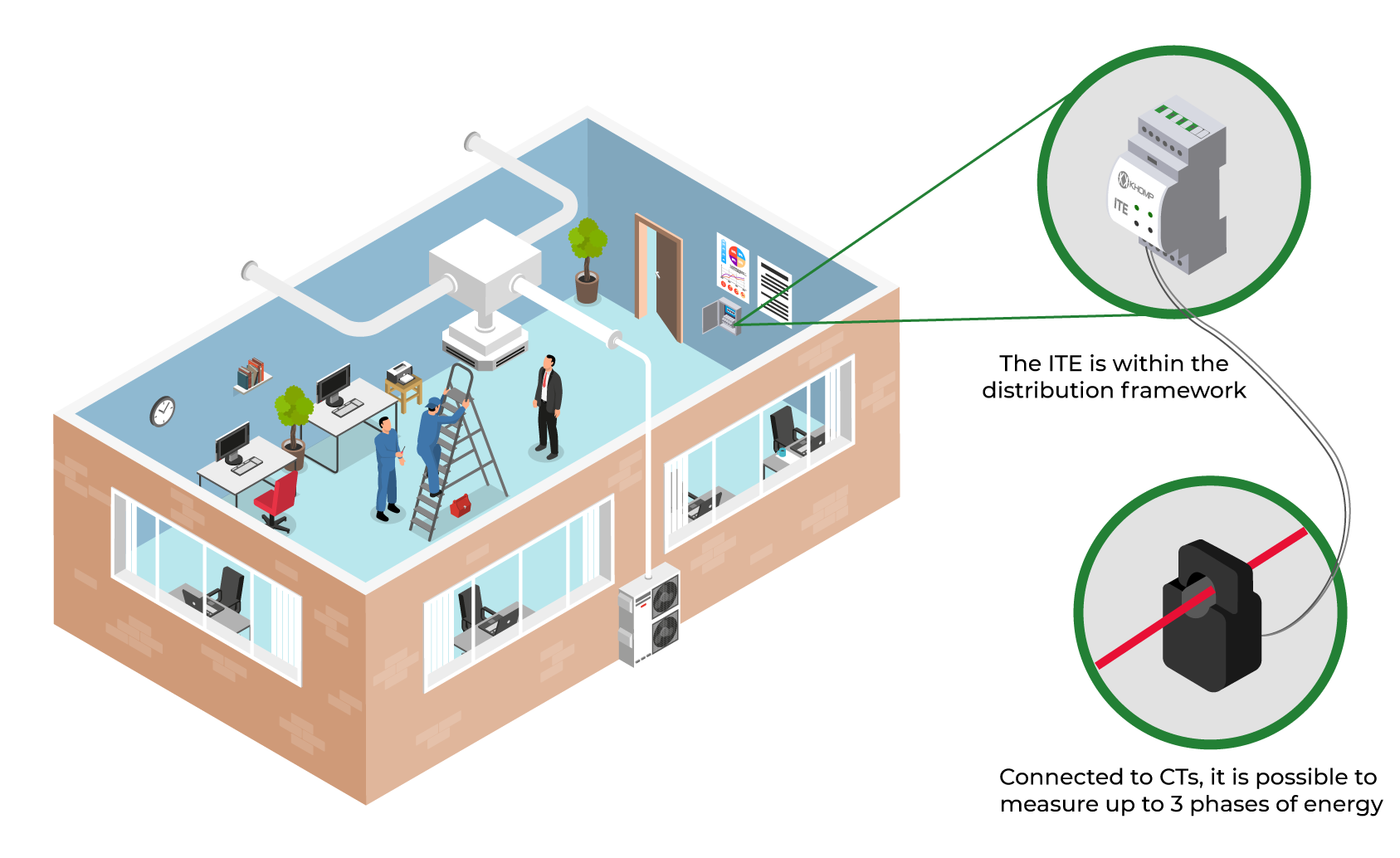 Downloads
Access here the PDF file with information from ITE11LI.
Datasheet