Description
The µSBC is the right choice for small and medium-sized businesses that use SIP technology in their telephony. It enable rotary calls between VoIP networks, solving issues of transcoding and survival, in addition to fallback and security.
Main benefits of the µSBC
Routing and fidelization
Control of telephony charges through configuration of routing by prefixes and/or by fidelization with carriers. It also allows for the ranking of the use of routes by priority, as well as the modification of source and destination numbers, if necessary.
Transcoding: for conversion of codecs
The µSBC has the capacity for up to 28 simultaneous SIP calls, with all of its SBC resources active, using the G.711 codec. It is compatible with and performs transcoding for G.729 according to the table below:

Route failover and Survivability: telephony guaranteed
In case of failures, the µSBC is prepared to maintain continuity of communication. In the event of a failure with a VoIP carrier when the route failover resource is enabled, the unit ignores the route that the server is using and searches for another compatible route. When an IP PBX becomes unavailable, the enabled SAS feature allows the µSBC to assume the basic functions of the IP PBX, such as the completion of outgoing and incoming external calls, calls between extensions and call transferring.
SBC: Network security
The SBC isolates the client's voice network from the VoIP carrier network or the Internet, thus providing the SIP network with security through data encryption. This way it protects the communication sessions from interception by third parties on all calls simultaneously.
Other important security features that are available include register authorization, call blocking by destination and source to protect against fraud, and masking of topology, among others.
Features
Up to 28 calls between VoIP channels
Capacity for physical connection with up to 3 VoIP carriers, for high performance of the link with the carrier
3 Gigabit Ethernet ports for a dedicated link with carriers
1 front Gigabit Ethernet port for management
SBC and security features available for all calls simultaneously (consult the datasheet to see them all)
Friendly web Interface for configuration, monitoring and diagnostics
Provisioning via export and import of configurations and Zero-touch provisioning
Compatible with all G.711 codecs (A-law and μ-law) and G.729A
Customizable CDR
Routing of VoIP calls via data over LTE (4G) network
Call routing between two IP networks
G711 codec transcoding <-> G729
Voice network isolation
Survival
Records authorization
Feature for voice quality analysis traveling on the equipment – MOS
Resources
Application Model – µSBC
Connection of IP PBX with VoIP Internet Carrier
In this scenario, the µSBC connects to the local IP PBX server, with two VoIP Internet carriers, with all security resources.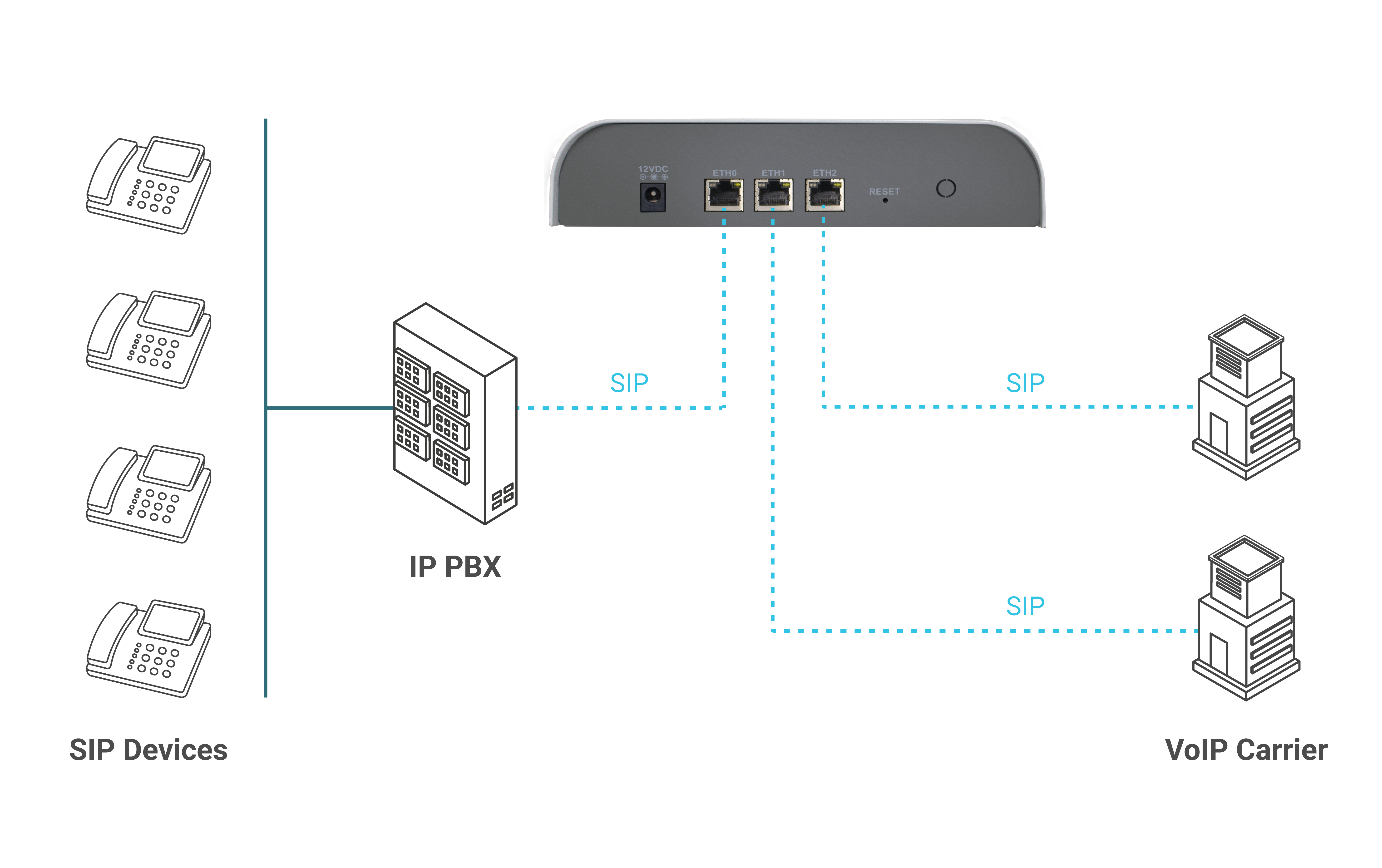 Downloads
Access here the PDF file with information from µSBC.
Datasheet