Description
The ITG 200 Indoor is a telemetry gateway designed to be integrated into IoT – Internet of Things – monitoring solutions. It receives and transmits data collected by up to 4 sensors connected directly to the cabinet or through wireless Endpoints, providing IoT solutions with scalability.
The wireless communication modules of the ITG 200 Indoor with Endpoints make it possible to increase the number of reading sensors and expand the monitoring area by installing sensors in locations that are far from the gateway. There are two optional models to choose from:
The IEEE 802.15.4 module
The IEEE 802.15.4 Module is recommended for projects that involve the monitoring of smaller areas, like an internal industrial environment, for example.
LoRa® Module
The LoRa® module makes it possible to monitor more extensive areas, and may be used for public networks, in agribusiness, at universities, or for intelligent cities, among other things.
The 3G Module – for better assurance in the sending of data
In the event of a failure in an Ethernet network, the 3G data module provides a fall back system, assuring the delivery of information.
Typical Applications
The data collected may be used in a wide range of applications that can be developed by the client, making it possible to create an endless variety of monitoring platforms, including:
Temperature sensors that can provide warnings in cold storage, refrigerators at supermarket chains, refrigerators for storage of medicine in hospitals and specialized pharmacies, etc;
Humidity sensors that can help with the perfect storage of products, control of humidity at data centers and warehouses for sensitive raw materials;
Control of consumption in the use of public lighting with intelligent lamps, among others.
Characteristics
Compatible with temperature, humidity and contact sensors
2 RJ45 Fast Ethernet10/100 Mbps ports for greater availability in transmission of data
2 RJ11 1-Wire ports for integration with sensors (not included)
OLED Display with 4 buttons
2 omni-directional antennas with 5 dBi gain
Optional items*
3G data module for up to 2 SIM cards
Module for IEEE 802.15.4 wireless communication
Module for LoRaWAN™ wireless communication with 8 channels
5dBi External LoRa® Antenna
* Optional items are available at an additional cost.
Features
Application models
In the following scenario, the ITG 200 Indoor receives data from three Khomp IoT Endpoints through an IEE 802.15.4 or LoRa network. The data received is transmitted to an integrator's cloud environment to supply its monitoring solution.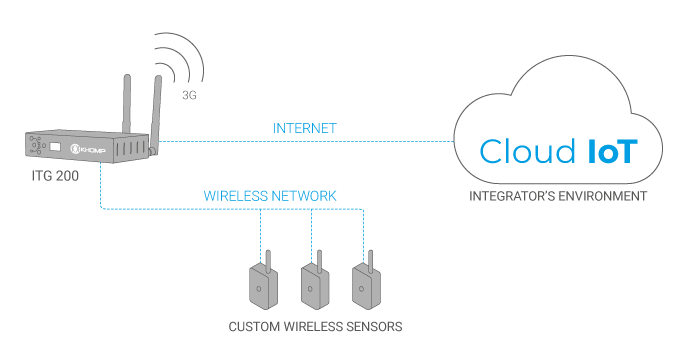 Downloads
Access here the PDF file with information from ITG 200.
Datasheet