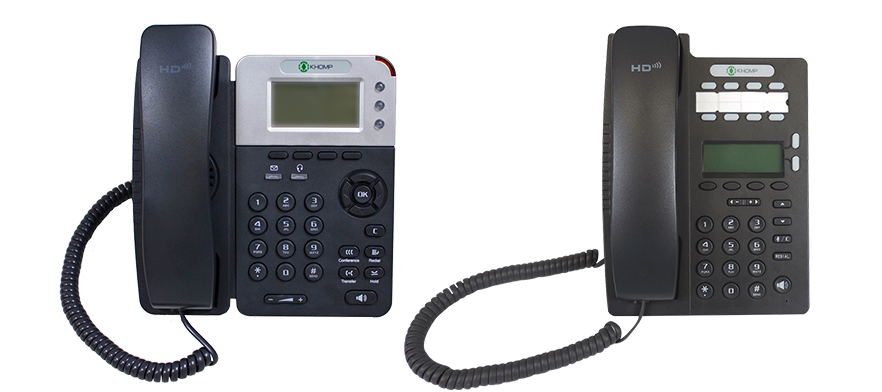 Using telephones that connect directly to a computer network, IP telephones offer a series of advantages in comparison to conventional systems. IP telephones make calls through Internet networks, receive voice and data and provide integration between the two networks.
Developed to substitute traditional desktop terminals, the IPS – IP Phone Series Khomp line of IP telephones have excellent HD voice quality, in addition to a clean technological design. Working in conjunction with communication platforms, they provide the day-to-day user with a series of facilities, such as: exclusive voice processing technology that provides clear voice calls and more fluent communication; a contacts list with the support of a personal telephone catalog facilitating search for telephone numbers; call transferring; conference calling with up to 3 participants; speed dialing; voice messages; and do not disturb function, among countless others.
Each model in the IPS line has specific characteristics to serve the most varied telephony scenarios.
Comparative table of IP Phone models

Amount of Lines

LCD display
(in pixels)

Speakerphone Support

PoE Support

LAN
Network
Exclusive
Feature
IPS 200 GPN
3
128 x 64
Yes
Yes
10/100/1000 M
Gigabit Ethernet Connection and Auto Provisioning
IPS 108
2
128 x 64
Yes
Yes
10/100 M
8 customizable keys
(via software)
IPS 102
2
128 x 64
Yes
Yes
10/100 M
–
Resources available with all IPS family models
Line status indicator
Forward all calls, forward calls when busy, forward calls when not answered
Direct line (immediate/delayed)
Call waiting, call queuing, line commutation
Call forwarding, call transferring, call holding, warning call, call return
One-touch speed dial, redialing
Speed dialing direct from telephone, direct dialing from call register
3-Way conference calling, Instant Messaging
DnD, Black list
Communication protocols
VoIP: Protocol SIP 2.0
Network protocol: HTTP, FTP, TFTP, IEEE 802.1x
Service Quality: TOS, Jiffer Buffer, VAD, CNG, G.168 (32ms)
Language
Portuguese, Spanish, English
Function keypad
4 programmable keys (via software)
Voice decodification
Codecs: G.723.1, G.729 A/B, G.711 A/U, G.722, iLBC, G.726-32
Network
IP attribution: Static IP, DHCP, PPPoE
Applications
Public and personal telephone directory available in XML for up to 300 users
Voice
HD Voice: HD Codec/Handset/Speaker(Full-duplex)
Separate 9-level volume control
Security
Login via LCD and site with password
Codification of signaling and media
Management
Updating: HTTP/TFTP/FTP Auto-provision/TR069
Configurations: Telephone/Web/ Auto-provision/TR069
Guarantees and Certifications
Factory warranty: 1 year
The entire IPS line is Anatel certified
ISO 9001 Industry certified