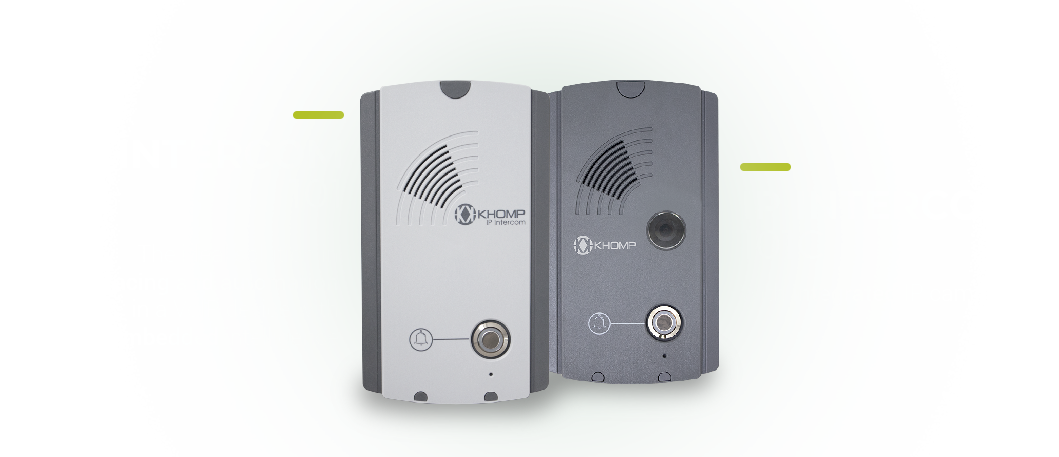 FAST, SAFE AND ECONOMIC COMMUNICATION
IDEAL FOR THOSE WHO WANT CUTTING-EDGE TECHNOLOGY WITH LOW INVESTMENT
IP Intercom is a intercom from Khomp's SIP Endpoints line
It has a high quality hand-free voice feature, option with integrated IP camera, an activating button, and a relay for opening doors and gates, as well as for activating other devices. Thus, it can be used as an electronic intercom, SIP intercom or a wall-mountable IP telephone.
It's intended for the application of low-cost intercoms for SIP communication
It uses the VoIP telephony network for connection and communication, with the possibility of opening a door remotely, even if there isn't a person dedicated to this task, making it an excellent option for environments such as houses, offices, communities, and gated condominiums.
The combination of many features with a very simple configuration
All configuration is done through a user-friendly web interface, available in the device itself. May be configured for registration in SIP platforms or peer-to-peer connections.

ACCESS CONTROL
ALLOWS FOR OPENING A DOOR FROM ANY VOIP COMMUNICATOR

QUICK ACCESS
MAY BE USED IN A BUSINESS OR BETWEEN BUSINESSES IN DIFFERENT LOCATIONS

CAMERA
INTEGRATED IP CAMERA WITH EXCLUSIVE WEB INTERFACE

WEB INTERFACE
CONFIGURE AND MONITOR IP INTERCOM FROM ANYWHERE USING YOUR LOGIN AND PASSWORD

SECURITY
IDEAL FOR HOMES, OFFICES, COMMUNITIES, AND CONDOMINIUMS

EASY INTEGRATION
PERFECT INTEGRATION WITH THE ASTERISK® SYSTEM
FEATURES
• Remote door opening by a SIP call
• Separate microphone and speakerphone volume control
• Log Service
• Integration with IP telephony systems
• Video call support
• Capturing JPEG images
TECHNICAL CHARACTERISTICS
• DTMF or SIP Notify
• 1 dry contact relay for access control, allowing access under any PBX extension
• Separate microphone and speakerphone volume control
• Integration LAN/IP-PBX SIP with internal WEB server for configuration
• Audio output power: 2W
• External actuation output (Relay): 10A/14 VDC; 10A/120 VAC
• Supported audio Codecs: G.711 Alaw e Ulaw
• VoIP protocols used: SIP and RTP
• Detection and generation of DTMF (RFC 2833 standard)
PHYSICAL CHARACTERISTICS
• Power source: 12 VDC
• Resistant to rain and water droplets (Degree of protection: IP66)
• Installation: External mounting
• Dimensions: 18.2 x 20.4 x 3.5 cm
WALL-MOUNTABLE IP COMMUNICATION DEVICE
For communication between environments through VoIP hand-free calls (on the internet).
IP INTERCOM FOR SECURITY
For security systems and access control, with local or remote use.
IP INTERCOM FOR ACCESS CONTROL
Communication device for access control systems, such as parking lot gates, access ratchets, and others.
ARE YOU IN DOUBT?
CONTACT US: