Model
EBS-FXS SPX, with 24 FXS interfaces
Description
The EBS-FXS SPX is a compact 1U and half rack (19″) module designed to meet market applications that use open source software and require an interface with an analog extension, and is readily apparent as an excellent option for applications like IP PBX and hybrid call center systems with VoIP channels and analog extensions.
Connection of extensions to the module is done with the EBS-FXS SPX with a 50-channel Centronics connector and interconnection of the module with the server is done via Ethernet in a local network, isolating the power part of the extensions from the internal part of the server.
The EBS-FXS SPX maintains the standard and quality of the Khomp family of boards, performing all of the audio and signaling processing within the hardware itself, independently from the applications server.
Features and Beneficits
Typical Applications
PBX
IP PBX
Gateway
IVR
DAC
Main Characteristics
24 analog FXS channels
DSP for processing of audio
Web interface for control, visualization and download of logs
Classification of call answering (Call Analyzer)
Compatible with open source soft PBX
Exclusive Resources of the EBS-FXS SPX
Network channels: 24 analog FXS channels
PBX Protocols: Transfer, second line, hold and conference
Configurable ring cadences
Compatible with FOP (Flash Operator Panel)
Information on signaling and state of channels reported via AMI interface
Detection of answering available via dialplan and AMI interface
Specific signaling commands made available via AMI and AGI interfaces
Balancing of calls between channels from one or more output routes
EBS family
Resources
Application Model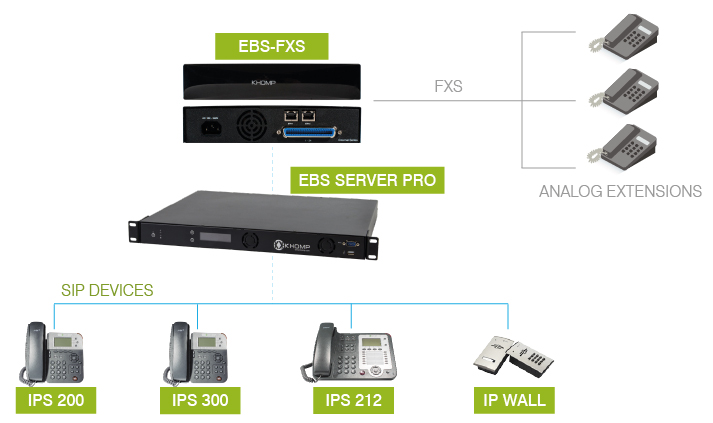 Downloads