Models
EBS-FXO 40, with 4 FXO interfaces
EBS-FXO 80, with 8 FXO interfaces
EBS-FXO 120, with 12 FXO interfaces
Description
The EBS-FXO SPX was developed for applications that use open code software and require analog trunking. Added value platforms, Audible Response Unit (IVR), IP, PBX, Telemarketing, Voice Mail, Conference, and Help desk, among other items, are examples of applications in which the equipment can be used.
Its voice resources, which include detection of voice mail, detection and suppression of DTMF and AGC, call progress, reproduction and recording of audio messages, detection of fax signals, among other items, in addition to echo canceling, are performed in the hardware without consuming the processing capacity of the host. This robust architecture allows for the use of the EBS-FXO SPX in high density applications using servers with less processing capacity and low cost.
Insight! for Asterisk
Add intelligence to the management of your telephony systems
Discover the powerful intelligence platform Insight! by Khomp for planning and decision-making, designed exclusively for telephony operations using Asterisk. Find out more here.
Features and Beneficits
Typical Applications
PBX
IP PBX
Gateway
IVR
DAC
Main Characteristics
4, 8 or 12 analog channels
Echo canceling in hardware
DSP for processing of audio and signaling
Web interface for control, visualization and download of logs
Compatible with open source soft PBX
Exclusive Resources of the EBS-FXO SPX
Network channels: 4, 8 or 12 analog channels
Modularity: 3 x 4 lines
PBX protocols: generation and flash detection
Line impedance configurable for 900 or 600 Ohms
Assistant for configuration of call progress
Information on signaling and state of channels reported via AMI interface
Balancing of calls between channels from one or more output routes
Reports inversion of polarity
EBS family
Resources
Application Model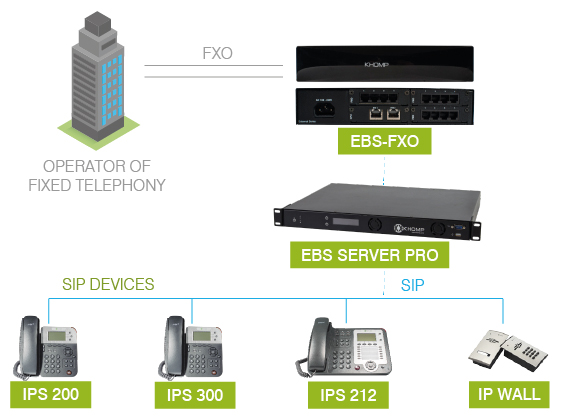 Downloads