Models
EBS-E1 SPX 300, with 1 E1/T1
EBS-E1 SPX 600, with 2 E1/T1
EBS-E1 SPX 900, with 3 E1/T1
EBS-E1 SPX 1200, with 4 E1/T1
Description
The EBS-E1 SPX readily presents itself as an excellent option for applications that require E1/T1 links and advanced voice resources.
Critical services related to digital PBX trunking such as signaling (R2D or ISDN) with a public safety answering point, dialing detection DTMF, tone generation (DTMF, MFC and 425Hz), as well as echo canceling, are performed by the module's DSP. In addition, Khomp's EBS units offer a high availability of resources for performing these services in real time, simultaneously on all channels, without requiring extra processing from the host. This robust architecture allows for the use of the EBS-SPX in high density applications with compact servers.
Audible Response Unit (IVR), Telemarketing, Help Desk, Customer Service, Voice Mail, Call Center, Conference, IP PBX, among other features, are examples of applications in which the EBS-E1 SPX can be used.
Insight! for Asterisk
Add intelligence to the management of your telephony systems
Discover the powerful intelligence platform Insight! by Khomp for planning and decision-making, designed exclusively for telephony operations using Asterisk. Find out more here.
Features and Beneficits
Typical Applications
PBX and PBX IP
Gateway
Voice mail
Conference
IVR
DAC
Main Characteristics
Echo canceling in hardware
DSP for processing of audio and signaling
Compatible with open source soft PBX
Classification of call answering (Call Analyzer)
Exclusive Resources of the EBS-E1 SPX
Network channels: 1 to 4 E1/T1 links
Network protocols: ISDN and R2 Digital (with up to 120 MFC signaling trunks). It's possible to configure different protocols on each link.
Optional EBS-E1 Bypass contingency board for each 2 E1/T1, for handling failures
Telephone network information, including causes for rejection and hang ups via AMI and dialplan
Specific signaling commands made available via AMI and AGI interfaces
Detection of answering available via dialplan and AMI interface
Balancing of calls between channels from one or more output routes
EBS family
Resources
Application Model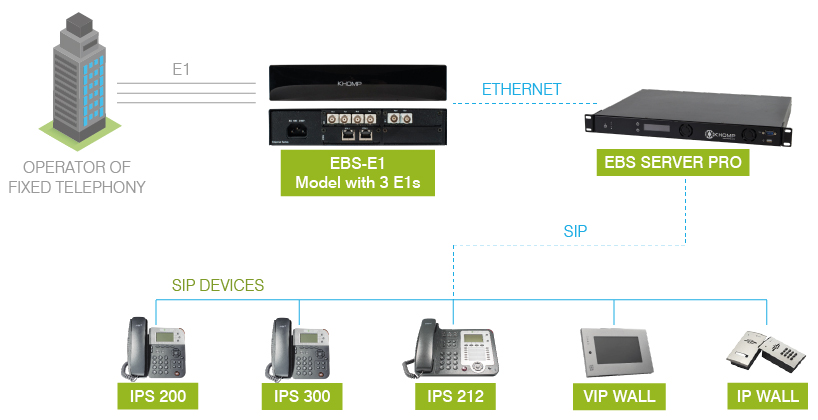 Downloads