Solution was based on Kmedia media gateways
Unifique is a company that has been operating in the area of telecommunications for the past 19 years, offering services and solutions for homes, condominiums, businesses, and government agencies. Currently, it has wireless projects and modern optical fiber networks in the whole State of Santa Catarina (Brazil), providing voice and data services in more than 90 cities. With a potential of covering more than 70% percent of the state population with its network, it currently has a portfolio of over 75,000 clients.
Aiming to expand the services offered, it started its PSTN (Public Switched Telephone Network) operation in 2012, to provide its costumer base with an additional service. In the first phase, the plan was to interconnect seven cities which have greater coverage of the Unifique Network, operating signaling and traffic exchange in each one of them.
During implantation, aiming to adapt itself to the structure offered by the interconnection carriers, the project was modified, in order to have signaling points in only two cities, one redundant to the other. In this new scenario, cities that had signaling points were able to transfer them to the other cities through the SIGTRAN protocol. The extensive support for interconnection protocols implemented in the Kmedia Media Gateways, associated with configuration flexibility, were decisive for performing this change in the project in a timely manner and without the need of hardware replacement or purchase of new equipment.
Soon, the project evolved to a second phase, in view of the increased demand for the service. The scenario was then expanded, and two other gateways began exclusively performing the signaling processing function (PTS). This way, in addition to expanding the number of cities covered, there was an increase in the network reliability, achieving complete signaling redundancy.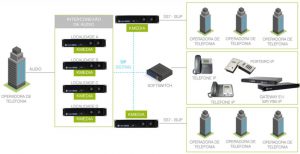 With the network already in production, once again Khomp was able to respond to Unifique's need for providing digital E1/T1 telephony to customers of DDR services, through KMG 200 and UMG 100 gateways, which are installed at the customer's premises, interconnecting Unifique network's IP telephony to the costumer's traditional PBX system. Also, with the renewing and expansion of Unifique's call center and IP PBX system, Khomp was able to provide IPS 200, IPS 212 and IPS 40 CC telephones.
In a third phase, Unifique Network implemented a cluster of Kmedia gateways, in which the seven Kmedia 800 devices from the initial phase were centralized in Blumenau, thus making the management of these devices easier, and allowing 1536 simultaneous calls.
This structure was possible due to Kmedia technology, which allows for a centralized management by an external processing element. In case there is any communication problem in one of them, the others take on the whole operation, thus ensuring stability and communication security across its voice network. The architecture and compatibility of software and hardware versions of this product line allowed the first Kmedia units, purchased in 2012, to receive the latest software versions, released in 2016, so they can be used in a new network architecture, without losing the investment made in the early steps of the project.
Having found flexibility, better benefit-cost ratio, centralization and redundancy, Unifique was able to move on with the expansion of existing carriers, activation of new interconnections, and performance of equipment adjustments in its network in an effective way, thus renewing its technology assets, with 13 gateways in its structure. Moreover, with the increase in its operation, it is adjusting the structure to implement two more Kmedia gateway clusters, thus creating three major points of interconnection.
Nowadays, Unifique and Khomp go on discussing projects and innovating solutions, as describes Allan Diego Piske, Network Manager in Unifique's Telephony Department:
"We are constantly expanding our network, which requires adjustments to the platforms and operating equipment. The project with Khomp has never been static, it is always changing and Khomp's flexibility in meeting our needs is really important."