Description
The UMG 100 is a user gateway from Khomp's Media Gateways line that was designed to serve small scale scenarios while guaranteeing high performance. This equipment supports 1 E1 link, up to 30 VoIP channels, registers up to ten different SIP accounts and was designed to be connected to a Public Switched Telephone Network (PSTN), VoIP links, soft-switches and PABX equipment. The UMG 100 is rugged and efficient, has dedicated DSPs for handling critical telephony tasks, and echo canceling to provide high quality audio. Supports the primary signaling and CODECs on the market, in addition to performing control and routing of calls in accordance with programmed rules. The User Media Gateway, as its name suggests, is a gateway designed to meet the needs of users. Its dimensions make it easy to install, and its user friendly web interface makes configuration and monitoring simple.
User-friendly Web Interface 
The UMG 100 has a user friendly web interface for monitoring, configuration, diagnostics and administration of the system. This allows for optimization of the user's time as well as greater autonomy.
Generation of Logs for Diagnosis
Access to logs through a web interface, which facilitates diagnosis of problems, as well as agility in finding solutions.
Routing and Fidelization
Greater control of expenses, through the possibility of configuration of routing by prefixes and loyalty of operators.
Efficient Architecture
The UMG 100 is a compact and efficient system which is comprised of three basic parts:
A CPU board, which is responsible for routing calls, access to the portal for configuration and monitoring, and for all of the high level resources of the equipment.
A telephony module, which is responsible for access to the E1 interface, as well as the execution of critical tasks in real time.
An external 10/100/1000 Mbps network port which is responsible for the integration of the system and for managing all IP traffic, including VoIP.
Characteristics and Benefits
  Handles Trunks and CODECs
1 E1
30 channels
Support for up R2, ISDN and SIP signaling
Support for up to 10 SIP accounts
Compatible with G.711 (A-law and μ-law), G.729A and T.38 (fax)
   Software specifications
SNMP Support
Call routing by prefix
Fidelization by carrier
Ticketing can be personalized by CDR (CDR – Call Detail Record)
Log generation for diagnostics
Status for E1 link
Detailed diagosis of E1 link
Interface for configuration
Route Failover – Keep Alive
ZeroTouch Provisioning – for automatic provisioning
   Hardware
Connector to E1: BNC Coaxial or RJ45
Connector to Gigabit Network: Network port 100/1000 Base-T
Energy Source – Input: 100-240V 50/60 Hz, Output 12V/3.5A
Dimensions: 4.5cm (height) x 16.5cm (width) x 11.5cm (length)
Equipment status LED's
Reset/Restore button
UMG TOOLS
More integration and automation for the UMG Line
Aiming to offer additional features to the UMG lineup, Khomp developed UMG Tools, an Asterisk resource module that enables channel monitoring in the media gateway within Asterisk® interface. Learn more here.
 
Resources
Application Models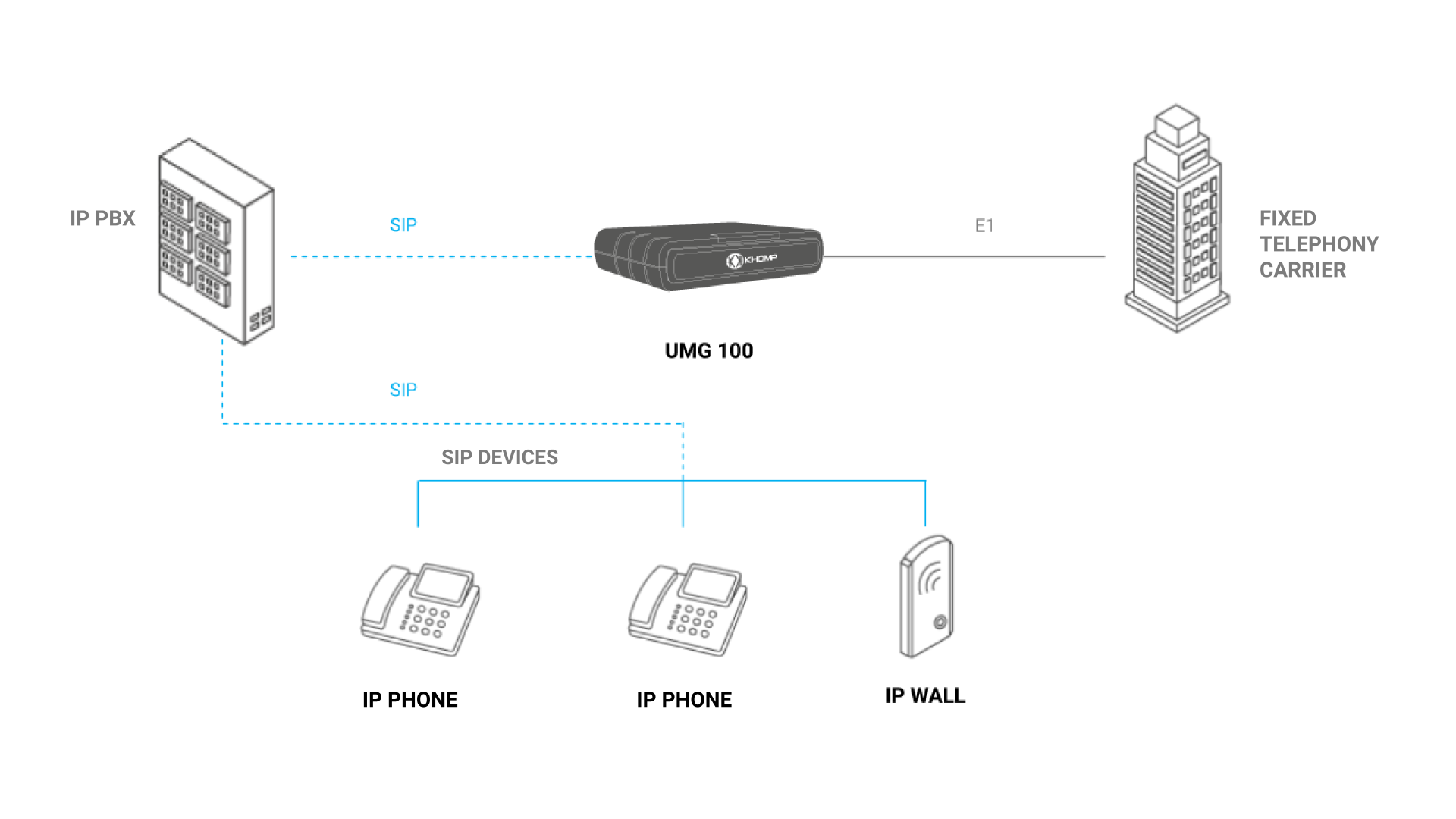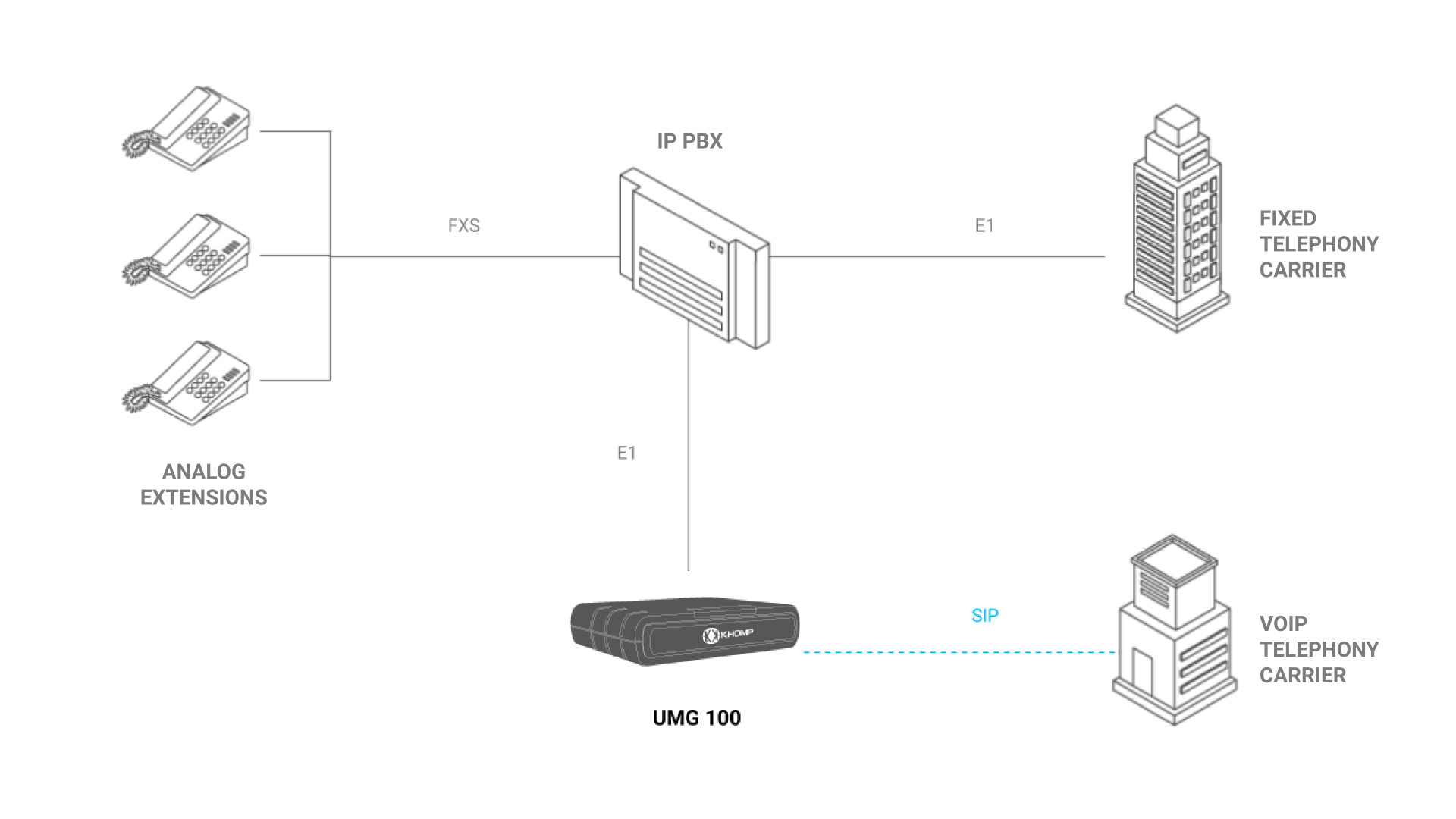 Downloads
Access here the PDF file with information from UMG 100.
Datasheet