Description
The UMG Modular 1200 is a voice gateway with a capacity of up to 120 calls designed to increase performance of telephony in corporate scenarios. The Model was designed to be connected to a Public Switched Telephone Network (PSTN), to VoIP links, to soft-switches, and to PBX devices.
With a new, more robust architecture, the UMG 1200 has up to 4 E1/T1 Links, 3 Gigabit Ethernet ports, SBC and software modules for local survivability and remote authorization for registration of IP extensions. In addition, its Web interface is user friendly and intuitive, making every day tasks like monitoring and configuration easier.
Characteristics
120 simultaneous calls
3 Gigabit Ethernet network ports
Up to 4 E1/T1 links
Option of internal or external power source
SBC – Routing between VoIP channels*
Survivability – SAS*
SS7/SIGTRAN support*
Register Authorization*
*Optional feature – optional items available at additional cost.
UMG Tools
Insight! Brings intelligence to the management of your telephony
Discover Khomp's powerful intelligence platform Insight! for planning and decision-making that is exclusive for telephony operations with Asterisk. Learn more here
SS7/SIGTRAN (NEW)
New interconnection possibilities for the Providers and Carries. The new UMG Modular 1200 supports SS7 and SIGTRAN for the signal point function for the UMG line. Offering the best cost benefit in the market for your infrastructure.
Applications
Ideal for corporate scenarios
Companies with traditional PBX systems that need to route calls between the main office and branches through an IP network (VoIP)
Organizations that want more channels for calling, without losing their legacy PBX
Companies that need control and reduction of costs with telephony through routing
VoIP telephony carriers that want to offer E1
Resources
Application Model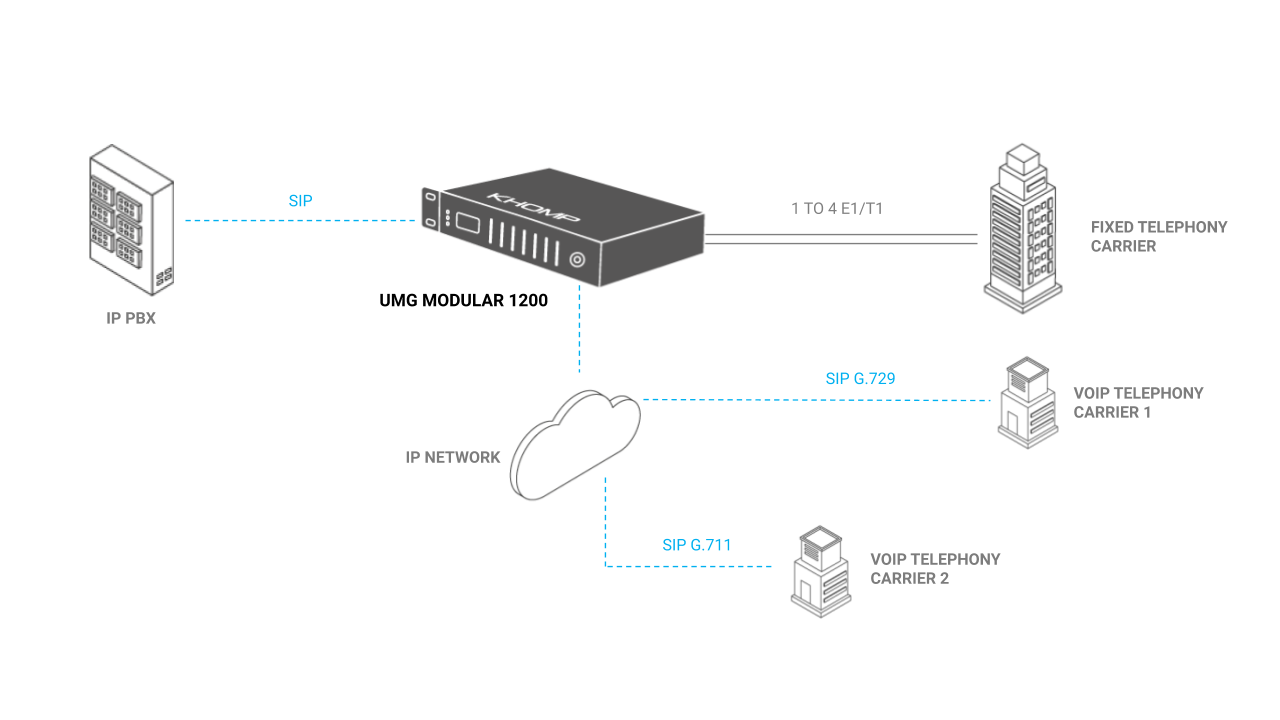 Downloads
Access here the PDF file with information from UMG Modular 1200.
Datasheet