Description
The KMG 1600 One is a medium density Media Gateway designed to meet the call-flow needs of the corporate market, carriers, Internet providers or contact centers that need to handle up to 480 simultaneous calls (TDM or VoIP). Its interface is modular, allowing for the possibility of 0 to 16 E1/T1 links and up to 14 external telephony modules, which can consist of E1/T1, FXO and/or FXS.
Just as with the other models in the line, the KMG 1600 also has advanced resources for call classification, local survivability, register authorization, support for SS7/SIGTRAN and SIP-I, high availability and intelligent monitoring of channels in real time.
Characteristics and benefits
Features are native in all KMG One models
Intuitive Web Interface for easier configuration, monitoring and diagnosis
Routing Script for the automation of routing functions
Data encryption in VoIP channels for network security
VoIP Bridge for any audio and video codec
Provisioning via TR-069
HA support
History and recovery of changes in configurations
Advanced CLI including reset of factory configurations
Optional features
E1/T1 Bypass for the solution security
Insight!: for interactive monitoring and real-time data analysis
Manager One: Intelligence and centralized management of your operation
SBC For Routing: all advanced features for routing of SIP – SIP calls
Register Authorization
Survivability
SS7/SIGTRAN Signaling
*Features acquired with additional licenses.
Advantages of the KMG 1600 One
1U Server
Option with BNC or RJ45 connectors
Option for up to 14 additional external telephony modules for E1/T1, 3G, FXO and/or FXS calls. Maximum of up to 480 simultaneous calls
Optional with redundant AC/DC
Up to 240 calls in transcoding
R2 and ISDN Links
Supports SS7/SIGTRAN and SIP
Resources
Application Model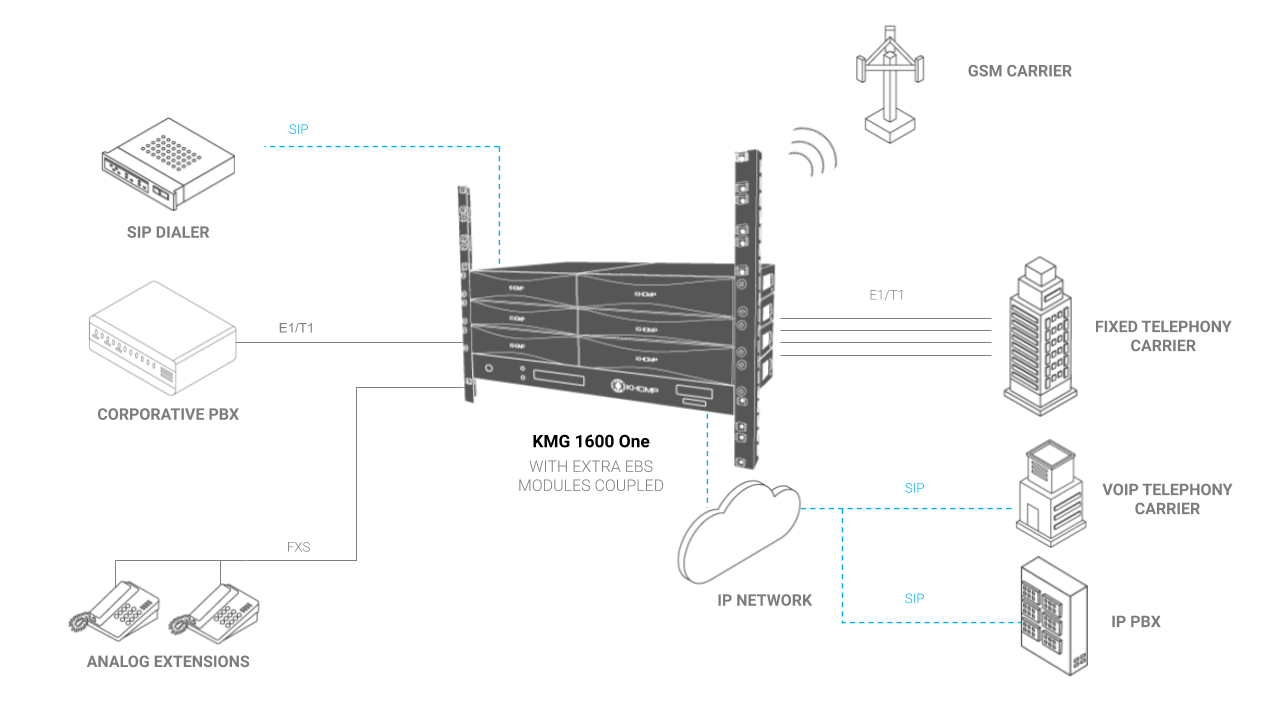 Downloads
Access here the PDF file with information from KMG 1600 One
Datasheet