The KMG 3200 One is a product in the Khomp media gateways line that was designed to serve the needs of telecommunications carriers and contact centers with a high density of calls, with a capacity of up to 2,000 simultaneous calls (TDM or VoIP). In all, there are 13 network ports and up to 16 external modules to mix and match E1/T1, FXS or FXO technologies.
Its features provide network security, call classification, register authorization, survivability, interconnection with SS7/SIGTRAN and SIP-I, centralized management and control of telephone billing expenses.
Characteristics and benefits
Features are native in all KMG One models
Intuitive Web Interface for easier configuration, monitoring and diagnosis;
Routing Script for the automation of routing functions;
Data encryption in VoIP channels for network security;
HA support;
VoIP Bridge for any audio and video codec (New)
Provisioning via TR-069 (New)
History and recovery of changes in configurations (New)
Advanced CLI including reset of factory configurations (New)
SIP-I Support (New)
Optional features
E1/T1 Bypass for the solution security;
Insight!: for interactive monitoring and real-time data analysis;
Manager One: Intelligence and centralized management of your operation;
SBC For Routing: all advanced features for routing of SIP – SIP calls;
Register Authorization;
Survivability;
SS7/SIGTRAN Signaling
Advantages of the KMG 3200 One
Up to 2,000 simultaneous calls;
Modular with up to 64 E1/T1 links;
1U Server;
Option with BNC or RJ45 connectors;
13 network ports;
Option for up to 16 additional external telephony modules for E1/T1, 3G, FXO and/or FXS calls. Maximum of up to 2000 simultaneous calls;
Up to 1000 calls in transcoding;
R2 and ISDN Links;
Supports SS7/SIGTRAN and SIP-I;
Optional redundant power supply
Resources
Application Model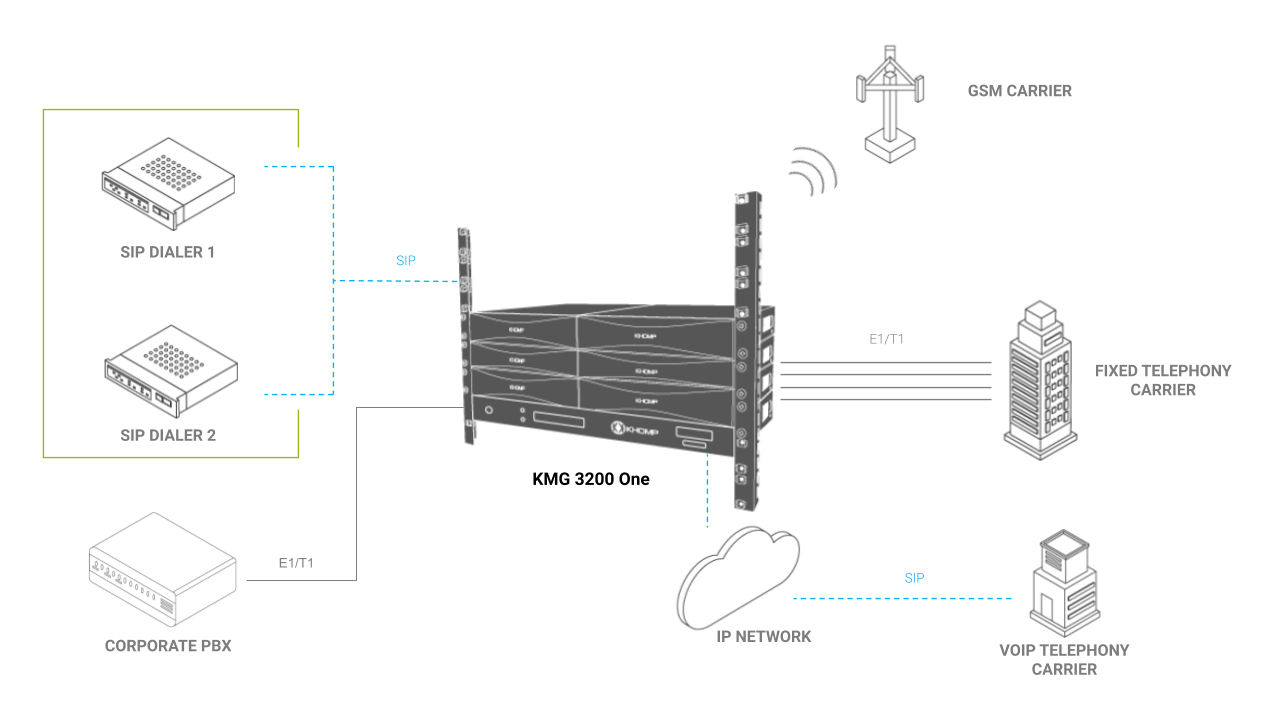 Downloads
Access here the PDF file with information from KMG 3200 One.
Datasheet