Models
3 slots for combination of any of the following:
   1 or 2 E1 links
   4 FXO analogical line interfaces
   8 FXS interfaces
Description
EBS Server is a Khomp's innovation for small and medium size telephony solutions. Its design offers full expediency for the integrator to load the OS and applications on the EBS Server and to develop products based on single compact hardware, with a clean design and excellent cost effectiveness.
EBS Server integrates the versatility of EBS Modular for connecting E1, FXS and FXO interfaces to a CPU, creating a single telephony platform for developing solutions such as PABX, PABX IP, gateway, recording systems, added value platforms, URA, DAC, etc.
Features and Benefits
EBS Modular Inside
3 slots for free combination between 2E1, 1E1, 4FXO or 8FXS.
Up to 2 E1s by combined product or up to 4 E1s by single product with E1
All voice resources simultaneously available on all of channels
DSPs for audio processing
Echo cancellation on hardware
and all other features from EBS Modular
Hardware
Mini ITX CPU
Quad-core Intel® Celeron® N4120 @ 1.1GHz Processor
2 USB 2.0 External Ports
2 Ethernet Gigabit ports
01 Ethernet Gigabit port for EBS expansion
AC Full Range power supply
-48V DC power supply (optional)
DDR4 RAM Memory with 4 or 8GB
1 SSD 2,5" de 120GB
D-sub (VGA) External Video Interface
Standard 1U Module for 19" rack
Dimensions: 437.8 (482.8 with rims for rack holding) x 44.45 x 380 mm
Optional Items*
0.96″ OLED Display
Support for one or two 2.5" HDs, with the following options:
– 120GB SSD
– 500GB HDD
* Optional items are charged separately.
Guarantees and Certifications
Manufacturing warranty: 1 year
Anatel Certification
Company certified by ISO 9001
Resources
Application Model: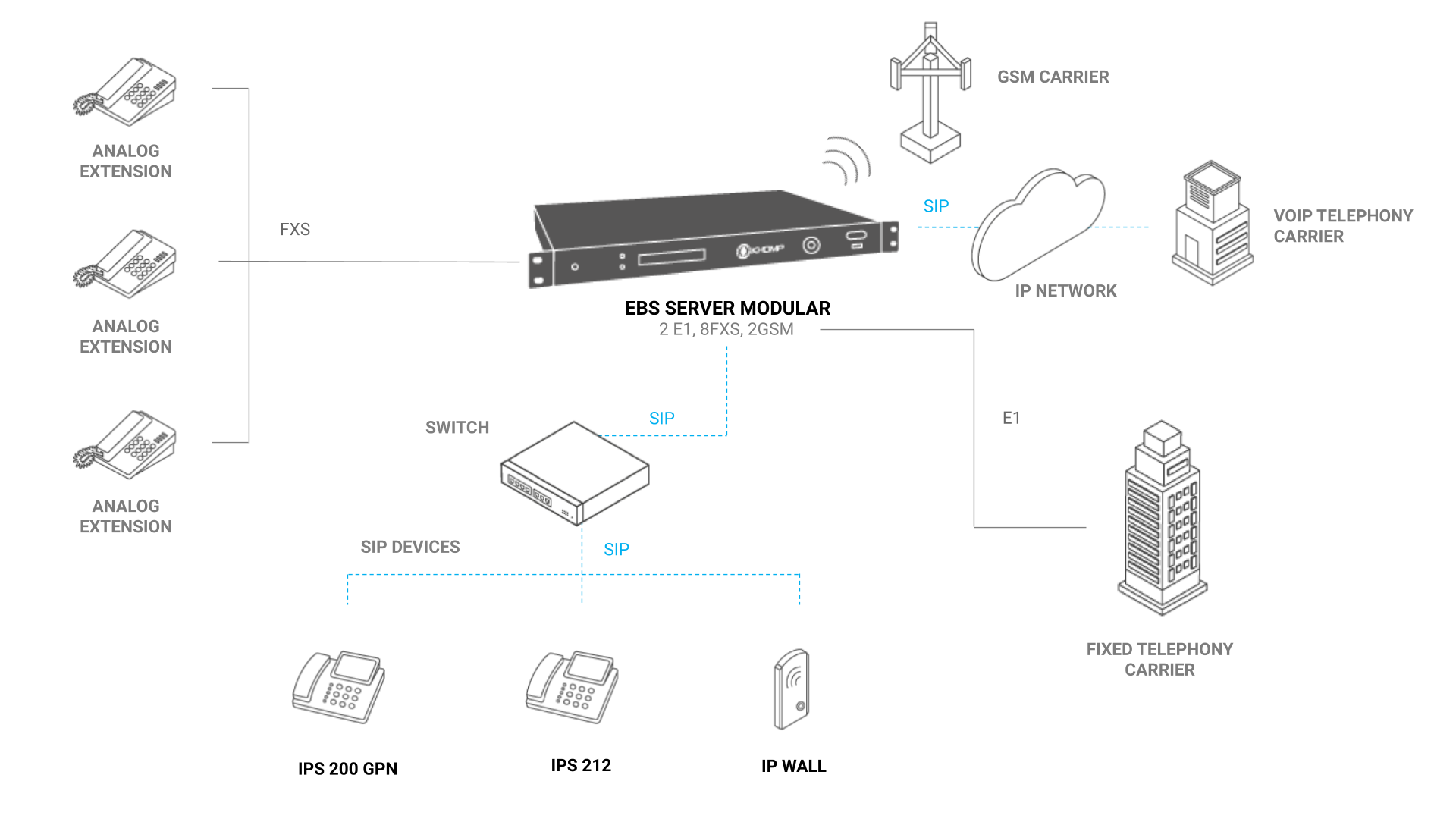 Downloads
Download here the datasheet file with information from EBS Server Modular.
Download datahseet