Models
Choice of 4 CPU plus storage combos
EBS Server PRO – A 1301
EBS Server PRO – A 1302
EBS Server PRO – A 1303
Description
The EBS Server PRO is an appliance which was designed for total practicality of the integrator, aiming at markets which require robust hardware, with the possibility of loading proprietary application and the operating system desired. The integration with the telephony interfaces occurs in up to 8 modules of the EBS line of Khomp, making the EBS Server PRO ideal for scenarios which require increase of other EBS models.
It has a built-in manageable switch dispensing with the requirement of other equipment connected to the network, which allows the user to develop a server based on single compact hardware, with clean design and an excellent cost x benefit ratio.
This equipment can be installed in a standard 19" rack occupying 1U. You can purchase it in OEM mode, which allows you to customize the cabinet: you can have your brand added to it before shipping.
Insight! for Asterisk
Add intelligence to the management of your telephony systems
Discover the powerful intelligence platform Insight! by Khomp for planning and decision-making, designed exclusively for telephony operations using Asterisk. Find out more here.
Features and Benefits
Hardware
D-sub external video interface (VGA)
2 external USB 2.0 ports
1 serial interface
2 lines x 16 characters display (65 x 16mm)
Each 2 external telephony modules takes up an additional 1U
Compatibility
Windows
Linux
FreeBSD
pfSense
Exclusive features:
EBS Server PRO – A
Mini ITX CPU
Built-in manageable 13-port Gigabit Switch
4GB RAM memory, expandable up to 16GB**
Possible combinations
2GB + 2GB (standard) = 4GB
8GB (optional) = 8GB
2GB (standard) + 8GB (optional) = 10GB
8GB (optional) + 8GB (optional) = 16GBB
Optional Items**
2,5" SSD/HD: 120GB (up to 4 SSD/HD supported)
8GB RAM Memory Module
120W Full Range Redundant Power Supply
* 16GB can be achieved through a combination of optional items.
** Optional items at additional cost
See the datasheet file to learn more about processing and storage configurations available.
Resources
Application Model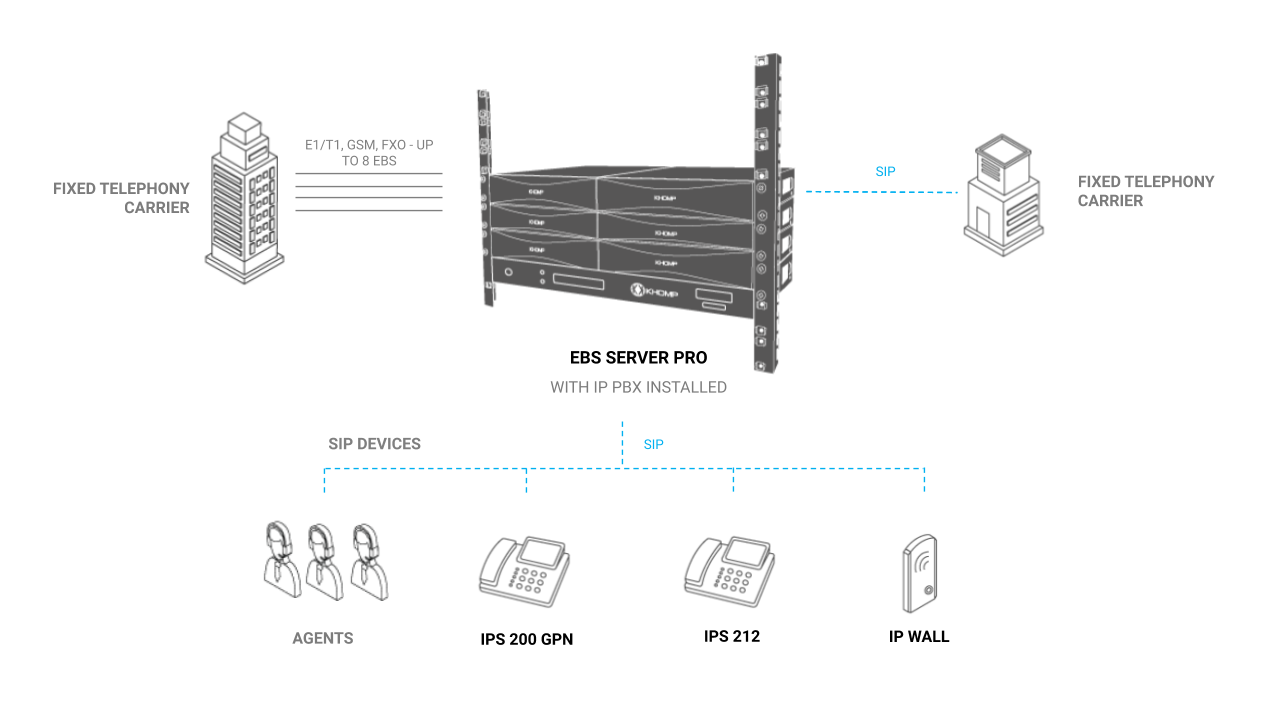 Downloads