Virtual Session Border Controller by Khomp
Introducing the vSBC One X, the next generation virtual Session Border Controller by Khomp. Used as a tool for controlling signaling and media, interoperability between different networks and security resources in telephony, the new version is a game changer in terms of performance.
The vSBC is a software program that can be installed in the most varied scenarios, offering flexibility and economy in implementation. It can operate in physical servers, virtualized environments, such as VMWare®, or even in cloud environments such as Azure, Google Cloud and AWS. This way, it is possible to have a robust SBC, with advanced resources for routing and security that is accessible anywhere.
Main differences:
High capacity | more than 20,000 virtualized sessions
One of the highest rates for CAPS (Call Attempts Per Second) on the market
Ease with routing configuration
Installation in a variety of scenarios: physical servers, virtualized environments or in the cloud
Flexibility in licensing: local or in the cloud
vSBC One X Resources
More than 20,000 simultaneous calls
With the vSBC One X, it is possible to have more than 20,000 simultaneous virtualized sessions in a single physical machine.

Routing and failover of routes
Have total control of your telephony expenses through route configuration. Whether by prefix or through fidelization with VoIP carriers, with vSBC One X you can always use the lowest cost route for each call, while also being able to use overflow of routes by number or by time of day.
In addition, by using the failover resource, whenever one carrier is unavailable, another preselected carrier is automatically used, ensuring uninterrupted telephony service.
Compatibility with SIPREC recorders
As an additional resource, the vSBC One X offers support for the recording of calls using the SIPREC standard, which makes it possible to send audio streams from the call to a recorder using this standard.
Register Authorization (Additional item)
When the Register Authorization service available on the vSBC One X is in place, all requests for registration of IP phones that are received from an external network are authorized first by the vSBC before they are forwarded to a PBX system on the internal network, increasing the security of SIP calls.
High Availability (Additional item)
High Availability is an additional resource available for the vSBC One X in on-premise scenarios. In the event of a failure of the main application, a standby SBC will assume the operation, preserving all of the configurations, including the IP addresses.
Exclusive Khomp Features
The vSBC One X can be used in conjunction with other Khomp tools, adding much more value to your operation. Check it out!
Khomp Analytics

Analytics is a powerful call sorting algorithm developed by Khomp. It identifies whether a call has been intercepted by the carrier or if the remote answerer is a mobile answering service, an automatic answering service or a human being. From this point, it directs the call to a route that has been preconfigured for every situation, such as hanging up or forwarding to an operator for example, and this is done simultaneously for all calls.

Together with vSBC One X, all of this control of calls is also available for SIP calls, making your operation much more efficient. Get to know more about Khomp Analytics.

Insight! Khomp

Insight! Khomp is an intelligence platform for planning and decision-making that is designed exclusively for telephony operations. It operates through analyses of historical and real-time data gathered in the context of your complete environment, acting as a business intelligence (BI) element in your telephony environment.

Together with the vSBC One X from Khomp, all of these benefits are also available for your SIP network, which means all of your VoIP telephony operations. Get to know more about Insight! Khomp.

Manager One

The ultimate solution for managing telephony environments, Manager One centralizes all carrier connections, devices and service providers, such as dialers, IVRs, and DACs, in a single platform. Together with vSBC, now all of this can also be available in your VoIP network.

Routing, monitoring, performance analysis, call classification — your entire telephony operation is made available in a simple, intuitive manner, no matter what hardware supplier you are using. Get to know more about Manager One Khomp.
(NEW) vSBC One X available also in Cloud version
All of the features that you already know and trust are also available in the vSBC One X Cloud, with a much lower implementation cost. This modality allows the integrator partner or contracting company to take advantage of a simpler operation, without having to worry about a dedicated infrastructure.
In addition, the Cloud version is being brought to the market with significant improvements in stability, usability and performance. All designed to deliver security and routing in a very simple way.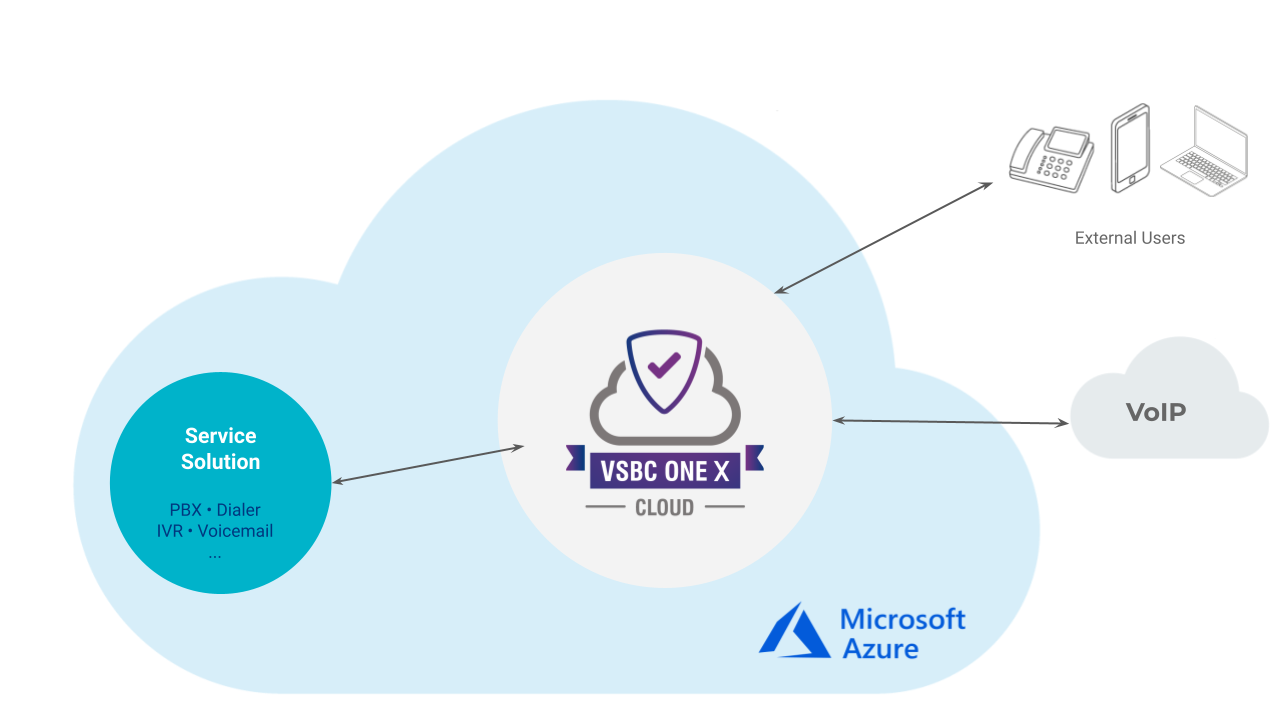 Access the datasheet below to find out about all of the resources and scenarios for applications.
Downloads
Access here the PDF file with information from vSBC One X
Datasheet