Description
UMG 102 is a user media gateway ideal for small businesses who wish to enjoy the benefits of VoIP telephony using a low-cost, reliable device.
UMG 102 allows you to connect to a VoIP carrier, significantly reducing expenses with national and international calls, when compared to regular rates.
Some of the UMG 102 use cases include: you can interconnect all the internal extensions of a company, including the headquarters and branches all over the globe, so that workers can call each other over the Internet at zero cost; it can also be used by VoIP carriers who charge per minute, so as to make the services more professional; among others.
UMG 102 also ensures the continuity of your telephony communications when your IP PBX becomes unavailable by assuming its basic functions, such as making and receiving external calls, calls between internal extensions and call transfer. We are talking about the Survivability feature, an optional resource available for purchase.*
Key features and benefits
30x E1/T1 channels
You can select the number of channels to match the telephony carrier
Up to 10 registrations in different VoIP carriers
2x Gigabit Ethernet ports
User-friendly web interface for configuring, monitoring and diagnosis
R2, ISDN, and SIP signaling support
Supports up to 120 extensions in Survivability mode*
Transcoding between G.711 (A-law and μ-law) and G.729A codecs
SNMP support
Customizable billing through CDR
Route Failover – Keep Alive
ZeroTouch Provisioning – for automatic provisioning
Callback app – for economy and centralization of calls
SAS – Survival resource
* Optional feature – optional items are available at an additional cost.
Applications
Corporate use: ideal for call routing between headquarters and branches over an IP network
Use for VoIP carriers: it is recommended to provide services to subscribers
Call forwarding through lower cost routes
Call routing by prefix
Fidelization for carriers
UMG TOOLS
MORE INTEGRATION AND AUTOMATION FOR THE UMG LINE
Aiming to offer additional features to the UMG lineup, Khomp has developed the UMG Tools, an Asterisk resource module that enables you to monitor the media gateway channels from the Asterisk® interface. Learn more here.
Features
Application Models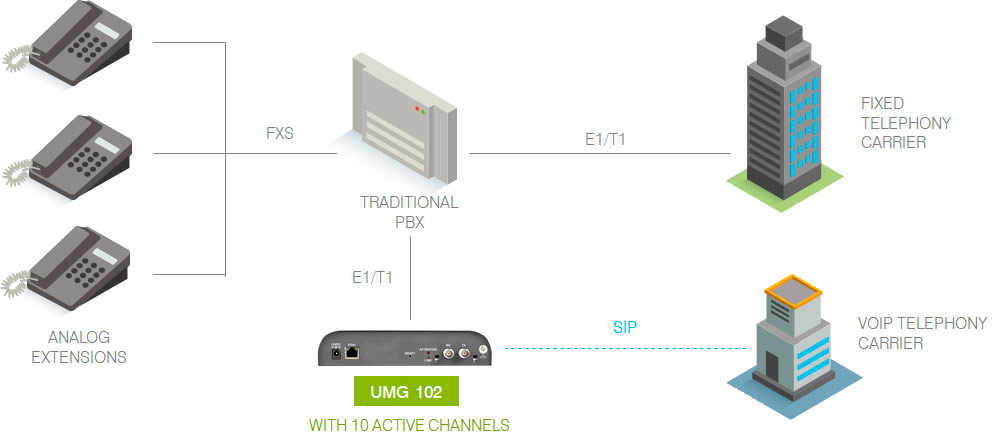 Integration with IP PBX systems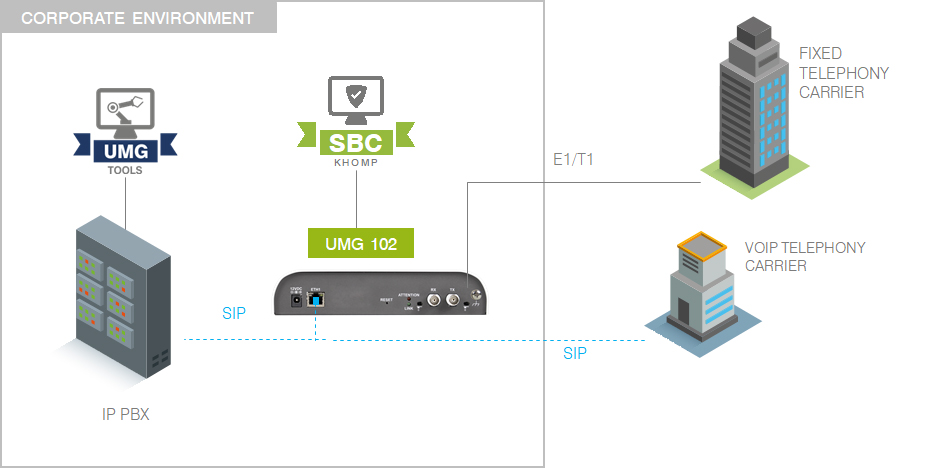 Integration with traditional PBX systems
Downloads
Access here the PDF file with information from UMG 102.
Datasheet