Description
The ITG 200 Outdoor is an IoT gateway developed to operate in challenging outdoor environments, such as public roads, antennas and transmission towers, and large agricultural areas. Its technology focuses on communicating with wireless sensors through the LoRa® protocol, capturing data and sending it directly to a predefined application.
Among its main differentials, we highlight the high degree of protection, compatibility with the LoRaWAN™ protocol, management of internal and external NetworkServer connections, and the possibility of integration and data collection from various LoRa® endpoints.
Typical applications
The data sent by the LoRa® endpoints and collected by the ITG 200 Outdoor can be used for different types of applications, allowing the creation of numerous monitoring platforms, including:
Control of public lighting on poles across the city
Collection of meteorological data, such as rainfall, wind, air humidity and temperature, solar radiation, atmospheric pressure, UV and Lux indexes
Control of soil humidity and temperature for large agricultural areas
Water meter management in homes and condominiums
GSM Module — for better assurance in the sending of data
In the event of a failure in the Ethernet network, the GSM data module provides a fall back system, ensuring the delivery of information.
Features
External protection with IP65 rating; optional external antennas with IP67 rating
Ethernet port to ensure availability in data transmission
GSM Module for two 3G SIM cards
Module for wireless communication with endpoints using LoRaWAN™ protocol
Optional Items
3G data module for up to two SIM cards
Waterproof IP67 LoRa® antenna
Waterproof IP67 GSM antenna
Resources
Application model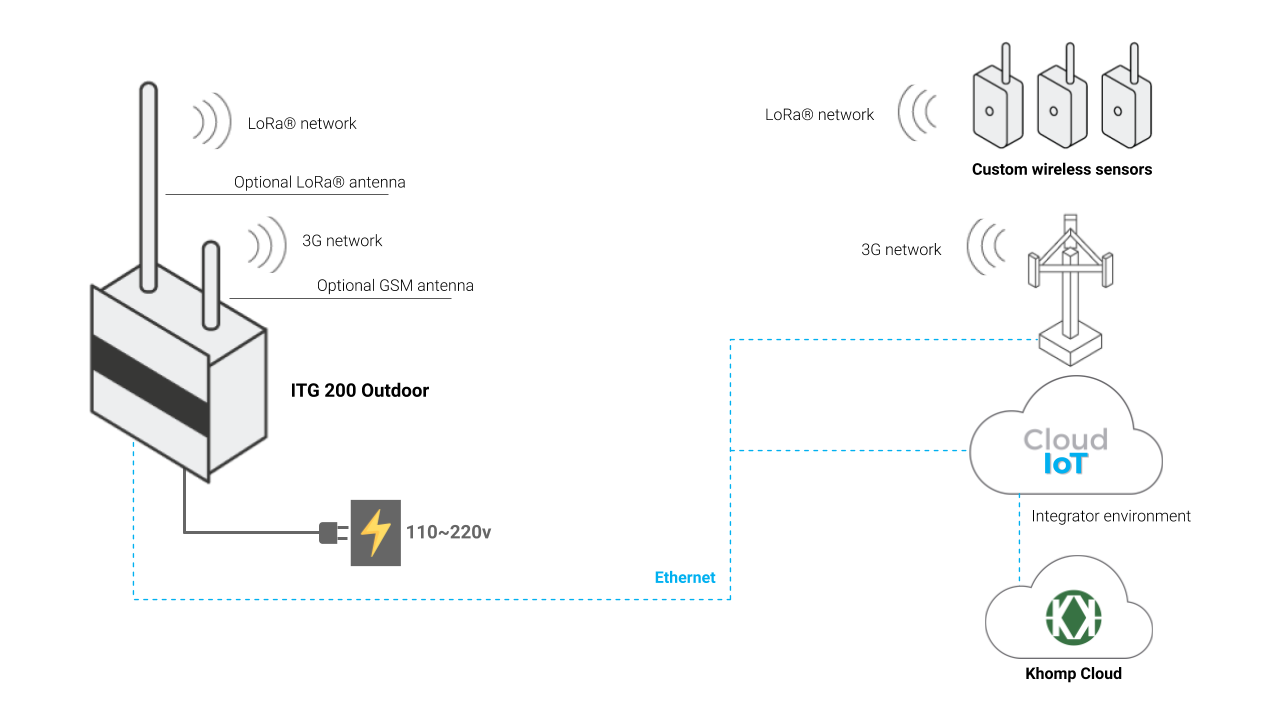 Downloads
Access here the PDF file with information from ITG 200 Outdoor.
Datasheet