Description
The IP Wall is a line of panel IP communicators with onboard intelligence and efficient speakerphone that serves as an electronic intercom, as an intercommunicator in automation or security systems, and even as an access control point. The IP Wall products can also be used in homes, offices, multifamily systems in residential buildings or gated condominiums, schools, intercom totems, parking lot gates, hospitals and many other environments.
Connecting like an SIP extension of an IP PBX or directly to another remote IP device, the products of the IP Wall line can be installed in either a local or remote network. Configuration is done through a web server that is accessible with any standard browser.
With all of these options, the IP Wall is an important tool in a variety of scenarios involving integration via SIP, including a wide range of integration possibilities for IoT requisitions.
IP Wall series 300 optional resources:
Built-in camera: for SIP video calls
RFID reader: for simplified door opening operations by using tags or registered cards
PoE: power and network traffic on a single cable
KeyPass integration: access by smartphone via bluetooth (available IP Wall 301, 312).
Typical Applications
Integrated electronic intercom via VoIP
Wall IP communication device to allow talking via hand-free SIP calling
Automation for device control and actuation
Intercommunicator for security systems
Access control point for security systems
Characteristics
External cabinet
External mounting or built-in installation*
Brushed steel (standard)
Anti-vandal structure
*The built-in camera model is only available for external mounting.
Capabilities
Door opening by remote order by means of commands via DTMF or SIP Notify
2 Wiegand communication interfaces for connection with RFID readers
2 dry contact relays for access control, allowing access through any PBX extension
Separate volume controls for microphone and loudspeaker
LAN/PBX-IP SIP integration with internal WEB server for configuration
Stand-alone, SIP access control using SQL database
Video call support by using the built-in camera or external approved cameras (a video license is required)
Perfect integration with Asterisk®
Door opening sensor
For installations with numeric keypad
Direct dialing allows for calling desired location or accessing special IP PBX resources
Programming of numeric passwords for access control
Optional Items
Standard H.264 video camera, 960p or 720p
Built-in RFID reader: 13.56Mhz or 125Khz (operating frequency)
Power over Ethernet (PoE)
Resources
Application model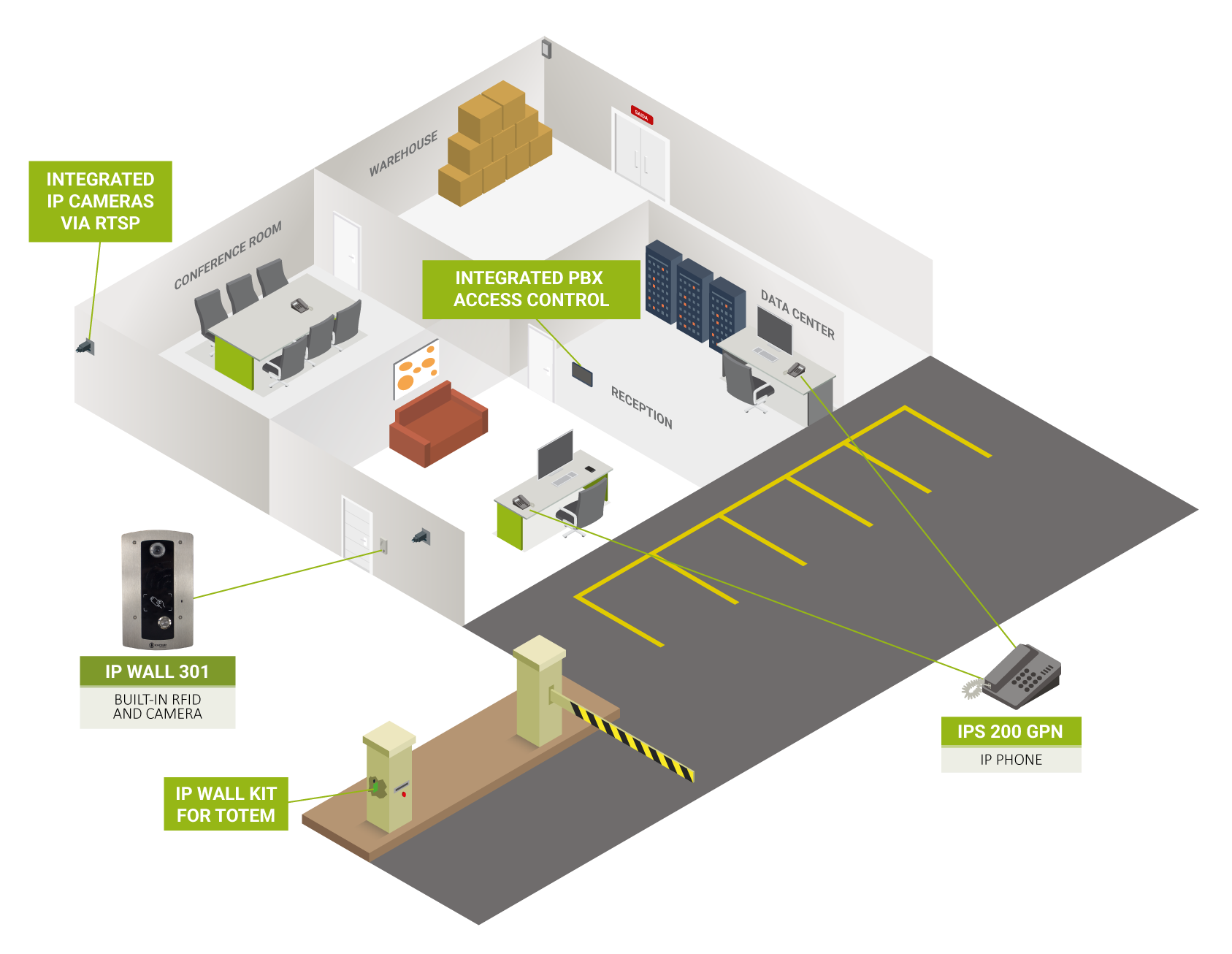 Downloads