IP Wall – Serie 200

IP Wall – Serie 300

 
 

Model

IP Wall 201 – With 1 programmable key

Models

IP Wall 301 – With 1 programmable key
IP Wall 312 – With numeric keyboard

External enclosure

Overlap Installation.
Plastic standard with 3 color options to choose:

DG – dark gray.
BC – bicolor
LG – light gray.

External enclosure

Overlap or embed Installation.
Standard brushed steel, single color.
Anti-vandalism structure.

Optional features

R – RFID
V – Video License
RV – RFID and Video License

Optional feature

Dimensions

Free standing: 182 x 204 x 35mm

Dimensions

Free standing: 182 x 204 x 35mm
Built-in: 220 x 136 x 54mm
Description
The IP Wall is a line of panel IP communicators with onboard intelligence, efficient hands-free voice feature, and an optional video camera that serves as an electronic doorman, an intercom system for security or automation and even as an access control point. The IP Wall products can also be used in homes, offices, multifamily systems in closed buildings and condominiums, schools, intercom totems, parking lot gates, hospitals and many other environments.
Connecting like an SIP extension of a PABX IP or directly to another remote IP device, the products of the IP Wall line can be installed in either a local or remote network. The equipment has two contact relays for, among other things, opening up to two doors or other devices such as gates, or for turning lights or heating on and off, from any environment. Configuration of the IP Wall is done through a web server that is accessible with any standard browser.
With all these options , IP Wall shown an important tool in different integration scenarios via SIP , providing a wide range of integration , including possible additions to the IOT requests.
Features and beneficits
Typical Applications
Integrated electronic doorman via VoIP
IP wall telephone with communication between environments via SIP voice telephone calling
Automated control for operating devices
Intercom for security systems
Access control point for security system, including through programming of numeric passwords
Functionalities
Door opening by DTMF remote order command or SIP Notify
2 Wiegand communication interfaces for connection with RFID readers
2 dry contact relays for access control, allowing access from any PABX extension
Separate controls for microphone and speaker volume
LAN/PABX-IP SIP integration with internal WEB server for configuration
Access control operates as Stand Alone, SIP and using SQL database
Supports video calls* (See list of compatible cameras. Video support enabled through optional license)
Perfect integration with Asterisk®
Door open sensor
For installations with numeric keyboard
Dialing of numbers, permitting direct calls to the destination or accessing special resources on the PABX IP
Programming of passwords for access control
Technical Characteristics of the IP Wall Board **
Audio Codec supported: G.711a/u, Ulaw and Alaw
Video Codec supported: H.264 (Video support enabled by optional license)
VoIP Protocols used: SIP and RTP
Access control with Wiegand protocol support
DTMF Detection and generation (RFC 2833 standard)
Audio output power: 2W
Resistant to rain and water droplets (Protection level: IP66)
** The IP Wall Board is an integrant part of the IP Wall communicator and the IP Wall Kit.
Warranties and Certificates
Factory Warranty: 1 year
ISO 9001:2008 certified company
Resources
Application Models
Integrated scenery with IP Wall 201 and Endpoints for corporate environment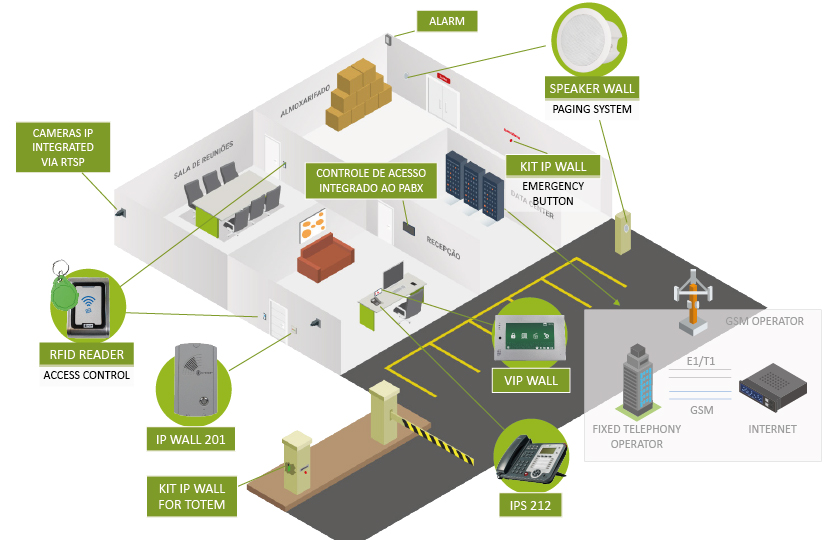 Integrated scenery with IP Wall 312 and Endpoints for condominium environment with local gatehouse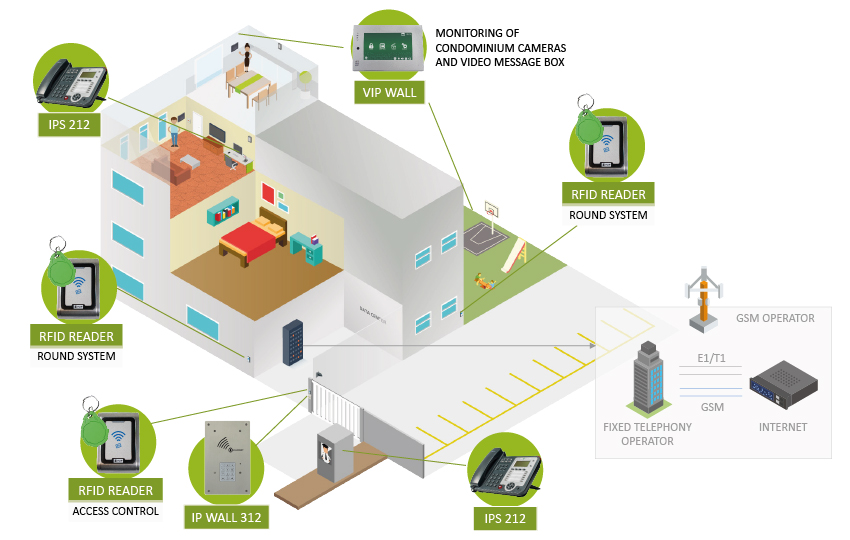 Cameras approved *
Grandstream GXV3611_HD, Grandstream GXV3672_HD_36, Grandstream GXV-3601_HD, Vivotek IP-8161, TP-Link TL-SC3430
Downloads