Strategic analysis for scenarios with Asterisk telephony
Khomp Insight! is an intelligence platform for planning and decision-making that is exclusively designed for telephony operations. It operates by analyzing historical data in real time over the entire scenario, through a simple and intuitive interface.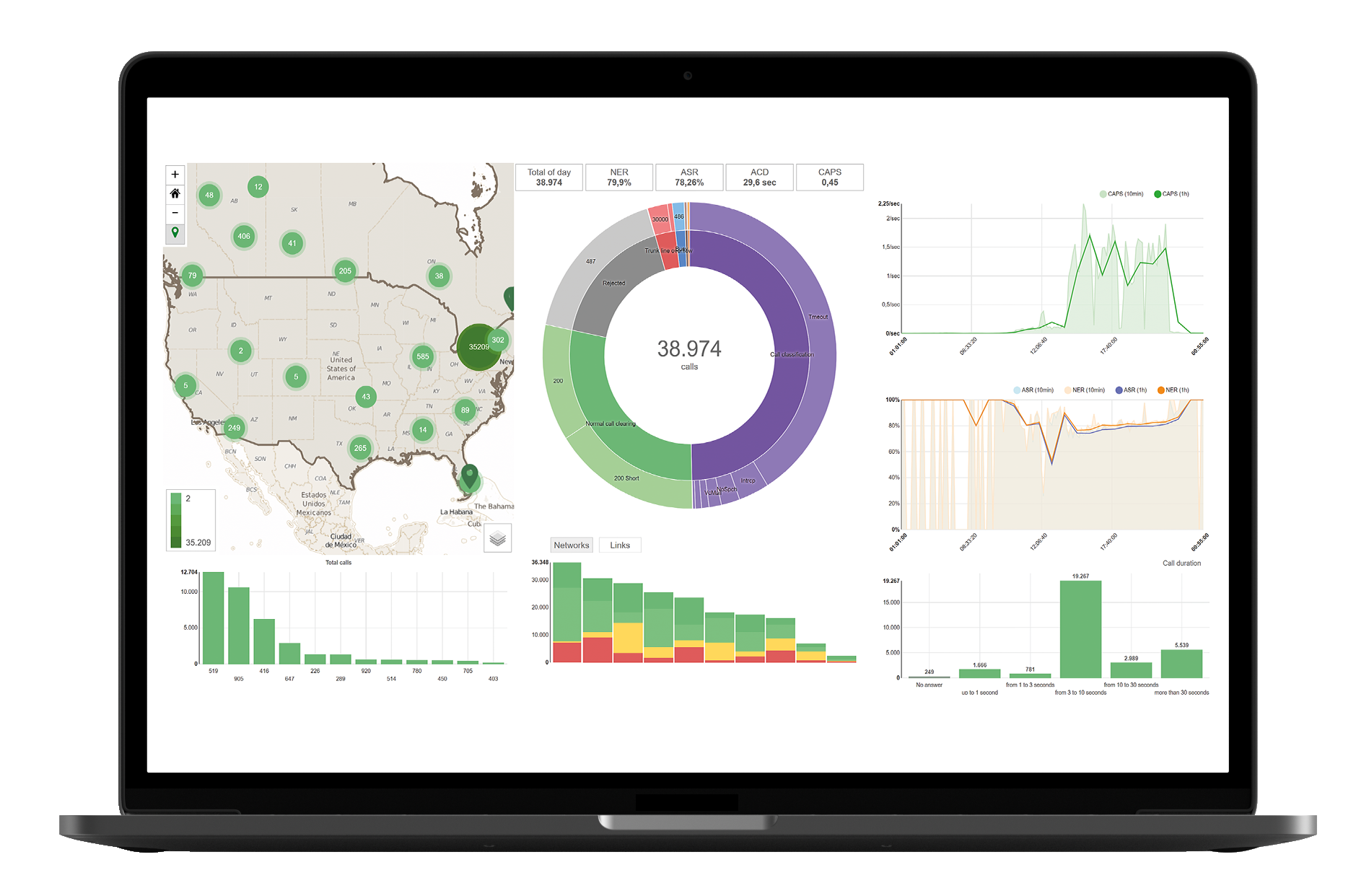 Designed for telephony scenarios based on Asterisk, Insight! requires installation of a service within open source that functions by sending the CDR of calls monitored via RADIUS to a cloud (where the platform processes this data).
Thus, Insight! for Asterisk is an integrating tool for the Insight! platform with Asterisk, designed both for users of the Khomp EBS SPX line, as well as for those that don't use it but need to monitor different telephony network in their system with Asterisk, making it possible to analyze all of the data in the operation.
Some of the performance indicators offered by Insight!:
CAPS – Call attempts per second;
NER – Network effectiveness ratio: answered, not answered, busy, etc;
Failure Ratio – Similar to the NER, but measures calls that were rejected by the internal network, gateway or telephony carrier;
ACD – Average call duration for calls answered;
ASR – Answer Seizure Ratio, for calls actually answered
Main features of Insight! for Asterisk
The integration tool Insight! for Asterisk is

free for download from the Khomp site

;
Low operating cost – Insight! operates in a cloud, making the use of specific hardware unnecessary;
Real time monitoring of performance indicators that allows for the use of filters for the analysis of isolated scenarios and current or past intervals of time;
Access to session tickets with extra filters and the possibility for exporting data;
Allows for a performance comparisons (benchmarking) between entities within the system (regions, campaigns, services, gateways and networks) in specific time intervals, either current or in the past;
Access to a snapshot for the identification of tendencies with the use of filters and time intervals;
Monitoring of the status of gateways and their circuits that allows for visualization of histories;
Notifications based on indicators generated automatically by configurable triggers;
Possibility of segmentation by systems grouping sets of gateways;
Monitoring of the performance of networks and the use of traffic profiles.