Description
A meter for measuring consumption/quality of energy passing through current transformers.
Focused once again on innovation, Khomp is adding to its portfolio technologies designed for the Intelligent Management of Energy. The IED102TC is one of these solutions!
Designed to collect data on electrical energy and, consequently, provide savings in energy consumption and monitor the quality of energy, the IED102TC connects directly to Current Transformers (CT's). Data such as current flow, voltage and power are collected and relayed to an MQTT server through a 3G interface or Ethernet network.
Among the most typical requirements in the market are the demand for managing the consumption of electrical energy and the rationing of costs in shared environments.
What can be measured?
Current flow up to 1500A with a precision of 0.5%
Mono, bi and three-phase measurement
RMS voltage and current
Active / Reactive / Apparent power
Power factor
Active / Reactive / Apparent Energy (consumption and generation)
Phase angle (average and instantaneous)
Frequency: 45–65 Hz
Fundamental active power
Harmonic active power
Harmonic voltage rates and current up to the 32nd power
THD (Total Harmonic Distortion)
Characteristics and benefits
Easy integration with the main integrators in the market through standard protocols
Remote configuration of APN, server IP, firmware updates
Communication via Ethernet and/or cellular network (3G, 2G)
MQTT, MODBUS TCP Protocols
Individual configuration of the timing for acquisition of bulk electricity
Energy quality up to the 32nd harmonic
Intuitive Web Interface for monitoring and configuration of parameters for the IED102TC device
Manufactured in-house
Features
TCP/IP Modbus: Standard industrial communication protocol, which provides fast transmission of Ethernet data, facilitating communication between devices of different manufacturers.
Resources
Application Model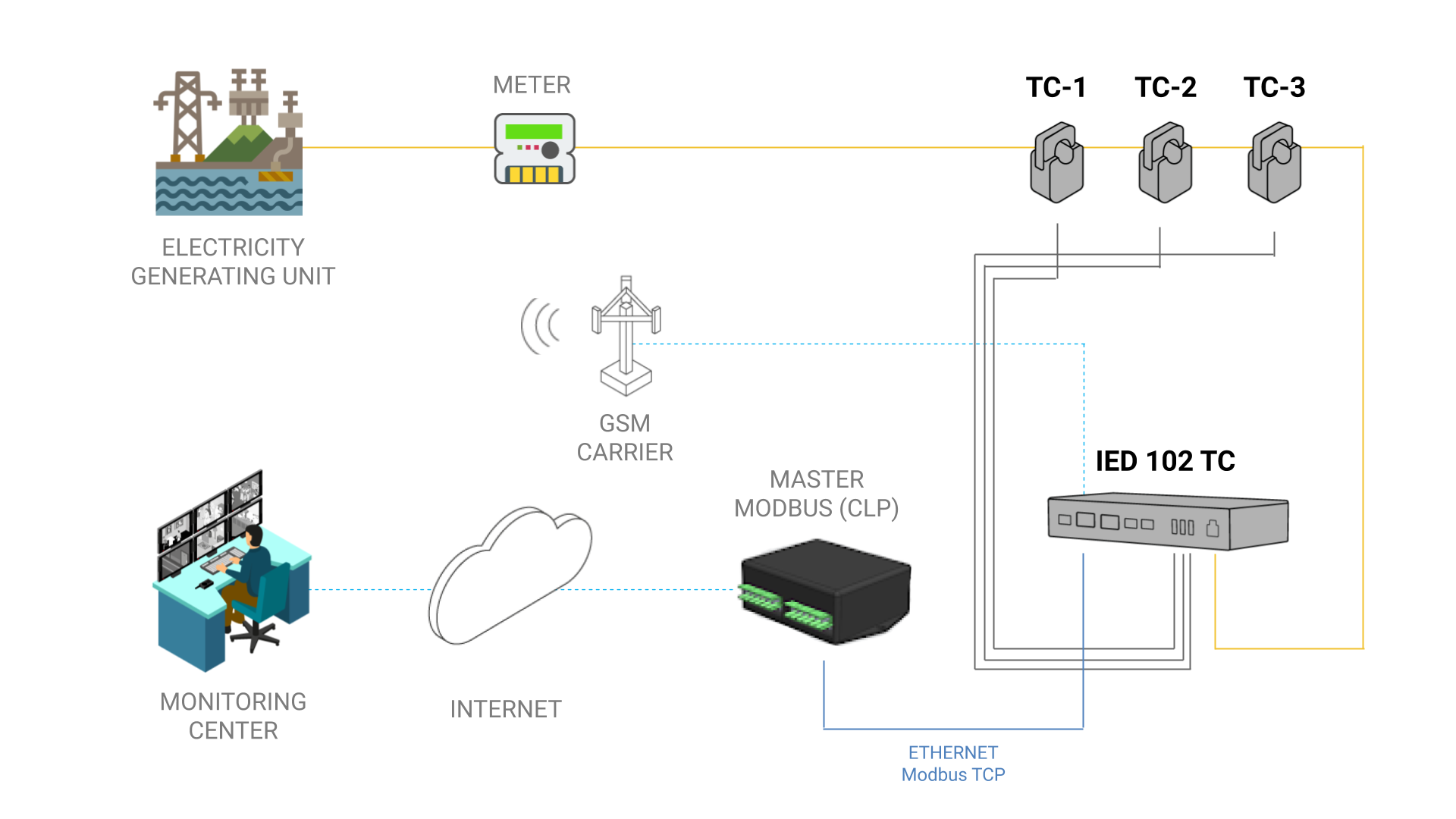 Downloads
Access here the PDF file with information from IED102TC.
Datasheet