Description
Seeking to expand the technology available for use in Smart Cities projects, Khomp now offers photocells for public lighting in its IoT portfolio. Attached to the upper surface of fixtures, these devices use programmed dimmers, which allows for automatic diminishing or increasing of the intensity of lights according to the time of day in order to reduce energy consumption.
Using LoRa® communication, Khomp IoT Photocell models are also capable of measuring a variety of items, such as tension, current and electrical power factors. In addition, some modules go even further, reporting incidences such as power failures and power spikes. There are also models that incorporate a high level of intelligence with integrated GPS (facilitating location for maintenance) or accelerometer/ gyroscope (monitoring the inclination of the light fixture, in case of accidents or gusts of wind).
In their day-to-day operation, the photocells send the data collected to an ITG 200 Gateway and trigger a preconfigured setting in the integrator's solution.
| | |
| --- | --- |
| Model | Description |
| ITP 100 |    LoRa® Photocell Endpoint basic version |
| ITP 101 |    LoRa® Photocell Endpoint with integrated GPS |
| ITP 110 |    LoRa® Photocell Endpoint with integrated gyroscope/accelerometer |
| ITP 111 |    LoRa® Photocell Endpoint with integrated GPS and gyroscope/accelerometer |
Characteristics
Calculation of energy consumption
Calculation of cumulative electrical energy consumption (active and reactive) for the light fixture, independent from the central system
Light sensor, creating a system that is immune to sudden variations in lighting, lightning and headlights
Relay actuator that turns off the light fixture when the tension nears zero (ZCD), increasing the life of the product
Programmable dimming time (local programming)
Connectivity via LoRa technology and the LoRaWAN protocol, compatible with most networks
Geolocalization to facilitate maintenance (optional)
Reporting of breakdowns in light fixture installations (optional)
Nationwide support
Resources
Application Model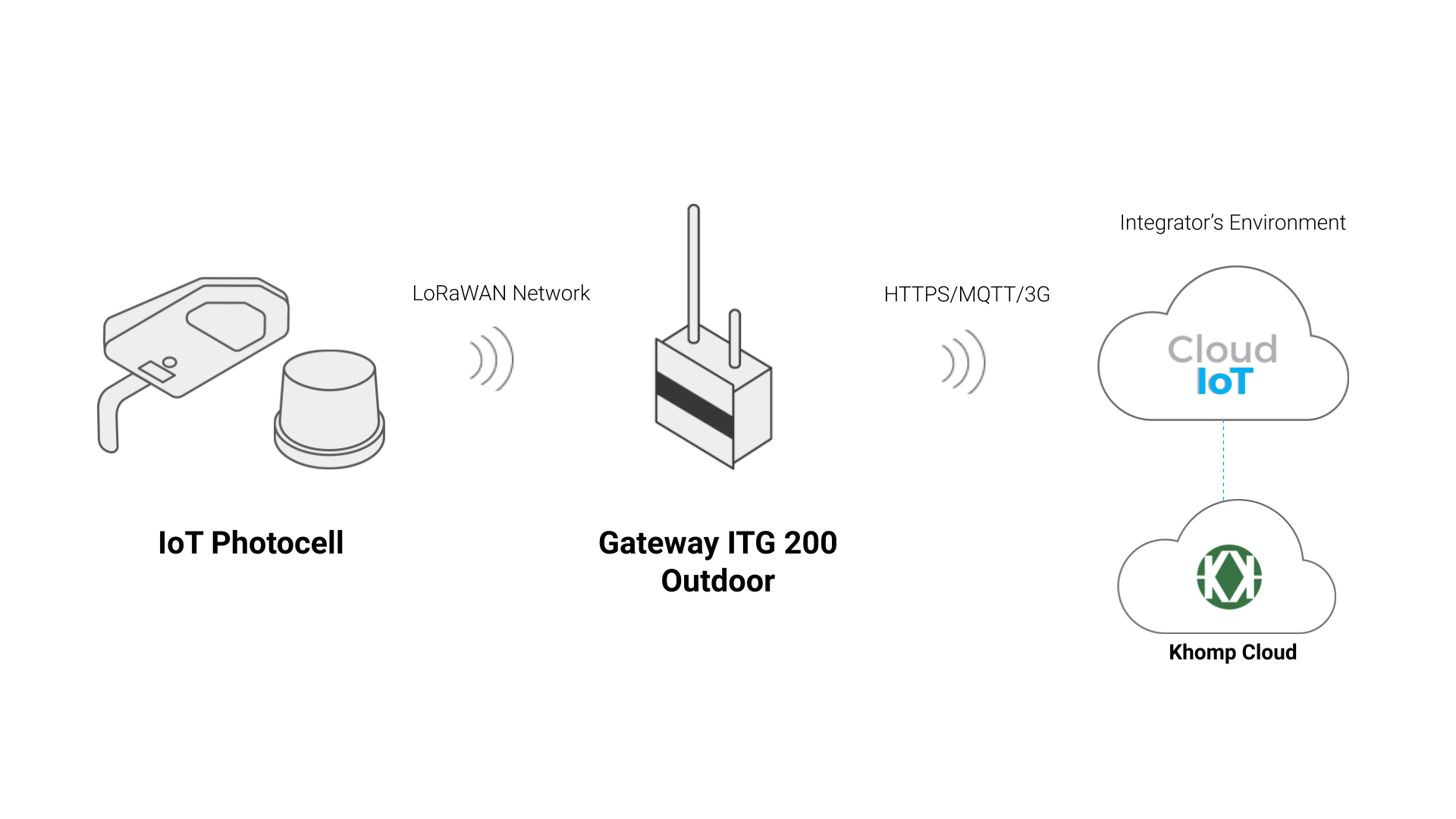 Downloads
Access here the PDF file with information from IoT Photocell.
Datasheet