Models
EBS Server Light 300 with 1 link E1
EBS Server Light 600 with 2 links E1
Description
EBS Server Light was developed in high technology, to handle small and medium-sized markets. Appliances of low cost, with capacity of 1 or 2 E1 links and support for R2D and ISDN signaling. For the equipment with 2 E1 links, it is also possible to use the Bypass module, contingency resource for hybrid solutions. It has a CPU for processing, creating a unique and sturdy telephony platform, which includes DSPs dedicated to treatment of critical telephony tasks and echo cancellation. These resources work together to provide a great call processing capacity, ensuring high quality audio. The equipment has compact hardware and can be installed in a 19" rack occupying 1U.
Belonging to the Appliances product family, the EBS Server Light is composed of the E1 interface and a CPU in which the integrator can load its application and Operating System. Gateway E1/VoIP, interface for call center or PBX, are examples, among countless others, are products which can be generated with the EBS Server Light.
Features and Benefits
EBS Server Light Inside
Module with 1 or 2 E1 links
Support for R2D and ISDN signaling
​Scheme of EBS Server Light inside
Hardware
Acrosser with Dual Core 1.86GHz
1 Gigabit Ethernet port
AC Full Range power supply
RAM memory of 2G DDR3 (expandable up to 4G)
1 HD SATA SSD 16G
BNC and RJ45 connector for the E1s
Default 1U module for 19" rack
Dimensions: 432 x 44 x 185 mm
CODECs Handled
G.711, GSM, iLBC, DVI4, T-38, A-law e μ-law (maximum of 60 simultaneous codecs)
 Optional Items*
​ *Optional items entail additional costs.
Compatibility
Compatible with Asterisk® and FreeSWITCH™
Compatible with API K3L Khomp
Warranties and Certifications
Manufacturing warranty: 1 year
Anatel Certification
Company certified by ISO 9001:2008
Resources
Application Model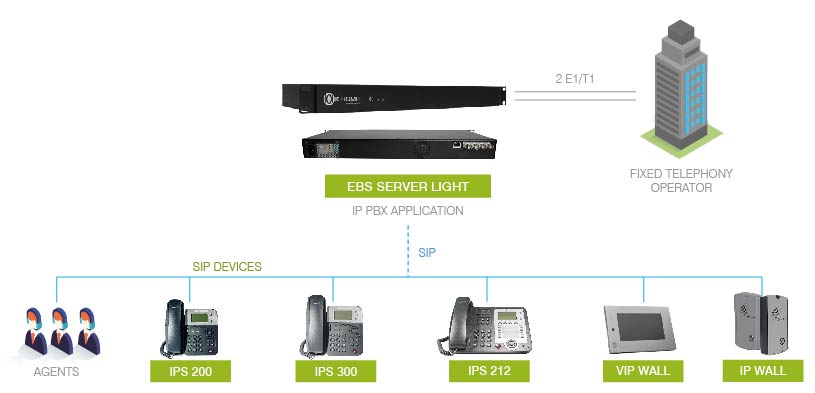 Downloads
Download here the datasheet file with information from EBS Server Light.
Download datasheet