Models
EBS-E1 HI 300, with 1 E1/T1
EBS-E1 HI 600, with 2 E1/T1
Description
The EBS-E1 HI was designed for passive recording applications on E1/T1 links, offering an excellent cost-benefit relationship for high impedance recording application (telephone wire-taps).
The module is connected to the E1/T1 link in parallel with the PBX and the modem with two inputs (Rx / Tx) that receive the signals transmitted by the PBX and the modem. These two signals are mixed to allow for full-duplex recording of calls on each of the 30 channels on each link.
Insight! for Asterisk
Add intelligence to the management of your telephony systems
Discover the powerful intelligence platform Insight! by Khomp for planning and decision-making, designed exclusively for telephony operations using Asterisk. Find out more here.
Features and Beneficits
Typical Applications
High impedance recording
Telephone call monitoring
Main Characteristics
DSP for processing of audio and signaling
Records in high-impedance without occupying a line (extension)
Reports failure of physical call on the line
Compatible with open source soft PBX
Exclusive Resources of the EBS-E1 HI SPX
Network channels: 30 or 60 high impedance E1/T1 channels
Recording in parallel, without interfering with the link
Network protocols: R2 Digital, ISDN
Uses 2 independent framers for reception of transmission signals from the modem to the PBX and from the PBX to the modem
Reports E1/T1 link error situations
Reports call monitoring events in R2D and RDSI signaling to the application, including number of A and B
EBS family
Resources
Application Model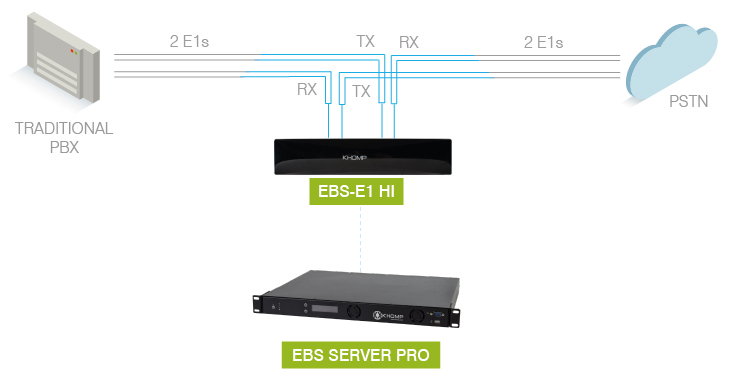 Downloads