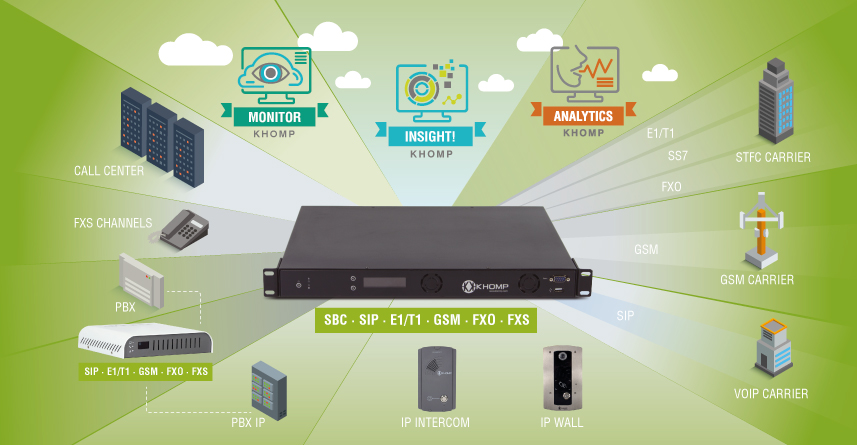 With a wide range of resources, Khomp products are ideal for the development of a variety of applications in which integration between telephony and computational systems is needed: always in accordance with the needs of each scenario while meeting the needs of integrators and resellers.
In order to guarantee integrators a solid structure for developing solutions that demand extreme reliability and high performance, Khomp products were designed to support high call traffic for long periods of time without any degradation. The products are integrated into solutions in the most demanding scenarios, such as banks, large call centers and carriers, proving on a daily basis their high performance in extreme use situations. This is the case because Khomp products are designed from their conception with these requirements in mind.
The Khomp portfolio also includes more streamlined products that are flexible and adjustable to smaller scenarios, meeting the needs of small and medium companies while maintaining the same solid technological base. This architecture makes it possible to create small and medium telephony solutions based on the Khomp portfolio that have much more processing capacity, inclusion of additional features, like security and automation, scalability for growth scenarios and other convergent facilities in a single piece of equipment.
Support for the integrator
Khomp takes its partnership with its integrators very seriously, motivating them toward continual growth and through them ensuring the demand for their products in the market.
Khomp's commitment to this partnership goes beyond commercial loyalty, innovating with a variety of methods for acquisition of products, such as try-and-buy and leasing, among others. Khomp is also flexible with research and development for its portfolio, performing technical customizations on its products, adding facilities and competitive advantages, and evolving to ensure the compatibility of its products with the needs of the market.
Contact our commercial team to find out more about the advantages Khomp offers its integrators.