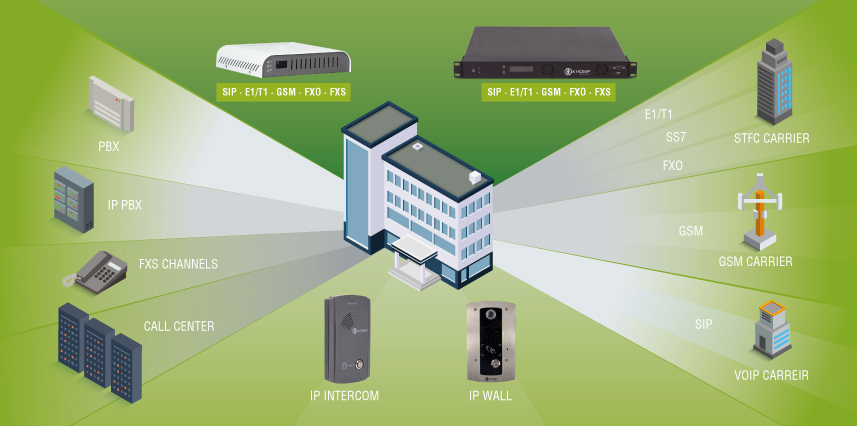 Companies and condominiums have scenarios with very specific needs and are looking for personalized services and resources for their telephone systems. Streamlined structures and solutions that are in accordance with the size of the scenario are essential attributes for smaller organizations. With this in mind, Khomp has flexible and customizable products in its portfolio in order to create telecommunications solutions for this market.
PBX and voice services developed using Khomp technology provide all of the quality hardware and software of products designed to meet the most demanding scenarios. This is because Khomp deigns products that allow for high performance applications to be used in extreme environments such as contact centers, banks and carriers. To meet the needs of these types of applications, Khomp products are designed from their conception to be rugged and reliable.
Starting with this base technology that has been tested in the most demanding environments, Khomp dimensions products to meet the specific needs of small and medium scenarios, such as small companies, small branches, home offices and commercial condominiums or residences, interconnecting a wide range of technology and facilities including:
Convergence of telephone systems, security and access control;
Versatility with the possibility of using both IP and analog extensions;
Streamlined solutions like SOHO PBX;
Advanced resources for IP intercom systems, IP PBX, Hosted PBX and Unified Communications;
Scalability to keep up with the growth of the scenario.
To find out more about Khomp products and how to purchase them
If you already know the best solutions for your company, see detailed descriptions for each product in the Khomp portfolio in the Products menu and how they can contribute to providing your business with a competitive advantage.
If you would like to purchase Khomp products, our team can recommend some integrators in your area to help you. Contact us through the Contacts menu.