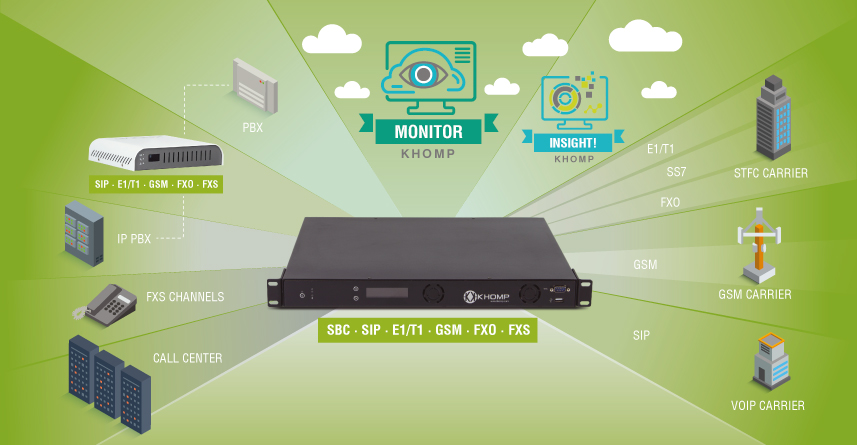 Meeting the needs of PSTN, ITSP and CA carriers looking for excellence in their operations, Khomp offers a complete line of products that provide: PSTN/ITSP interconnection, SIP Trunking and convergence between TDM, VoIP and GSM interfaces. In addition, the line includes gateways with GSM termination and user gateways.
An important line for this type of application, Khomp media gateways include a wide range of protocols and variations, as well as transcoding capacity for practically every CODEC on the market. That's why they are perfect for performing tasks such as:
Execute the interconnection between operators with SS7;
Call Routing by lower cost (LCR);
Provide digital trunks for businesses;
Offer VoIP interconnection to companies with legacy PBX.
Familiar to carriers through the high performance applications developed by its integrator partners, Khomp understands that for carriers, equipment suppliers should also be partners. That is why Khomp provides a technical team specialized in interconnection between carriers that is dedicated to assisting in the configuration and maintenance of equipment.
To find out more about Khomp products and how to purchase them
To find out more about Khomp's Media Gateways lines, their individual capacities and features, visit the Media Gateways page in the Products menu and find out which product is best for your solution.
If you already know the best options for your solution, see detailed descriptions for each product in the Khomp portfolio in the Media Gateways section of the Products menu and find out how they can contribute to providing your business with a competitive advantage.
To purchase Khomp products , contact us by accessing the section Contact.