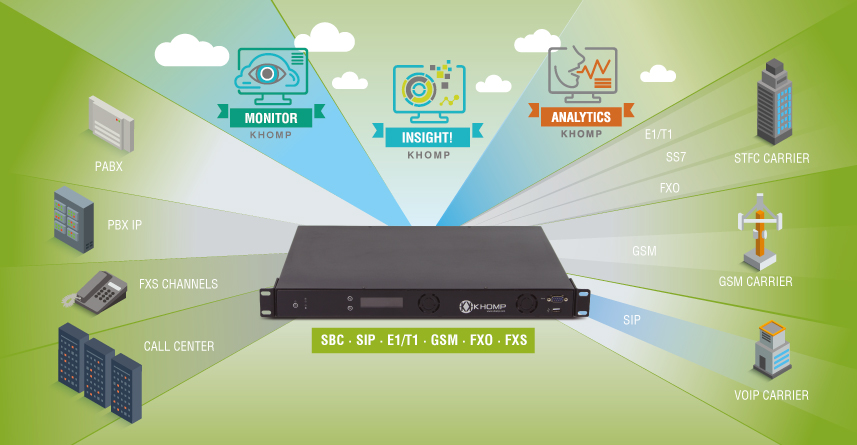 contact center solutions demand extreme telephony equipment configurations, requiring high density, high performance, scalability and great reliability. Khomp products are designed from their conception with these requirements in mind, resulting in an extremely efficient architecture that provides solutions based on Khomp technology with notably superior performance.
High capacity processing
All Khomp products have integrated high performance digital signal processors that perform all of the signal processing and critical signaling elements in the hardware, without using up the processing capacity of applications servers (hosts), thereby guaranteeing superior performance of the solution. In predictive dialer applications, these resources help reduce time between contacts, in addition to offering detection of answering services and an answer analyzer.
Another advantage to Khomp products is their carrier grade quality echo canceling, which is compatible with ITU-T G.165 and G.168 norms. Echo canceling on Khomp products is performed with dedicated hardware, which allows it to be done simultaneously on all channels with the same quality, as well as provide convergence and automatic delay adjustment during the entire contact, guaranteeing clear communication with excellent audio quality.
Khomp is always working together with its partners and understands that a contact center cannot stop. That's why all Khomp products are enabled for monitoring, configuration and remote diagnostic tools via web. Solutions based on Khomp technology may also include redundancy systems through the wide range of tools and products offered.
Khomp's commitment
Khomp's commitment includes delivering technical flexibility, customizing products, adding facilities and competitive advantages, and evolving as the needs of the market change.
To find out more about Khomp products for Contact Centers solutions and how to purchase them
If you already know the best options for your contact center, see detailed descriptions for each product in the Khomp portfolio in the Products menu and find out how they can contribute to providing your business with a competitive advantage.
If you would like to purchase Khomp products, our team can recommend some integrators in your area to help you, or personally guide you as to the best product lines for your project. Contact us through the Contact section.